Looking for an unbiased Jim Kwik's Superbrain Review? I've got you covered. In this review, I will discuss if Jim Kwik's Superbrain is worth it and whether you should try it.
Most of us are not living to our fullest potential. We live in a world where we get distracted by the constant stream of information and struggle to be productive with our time.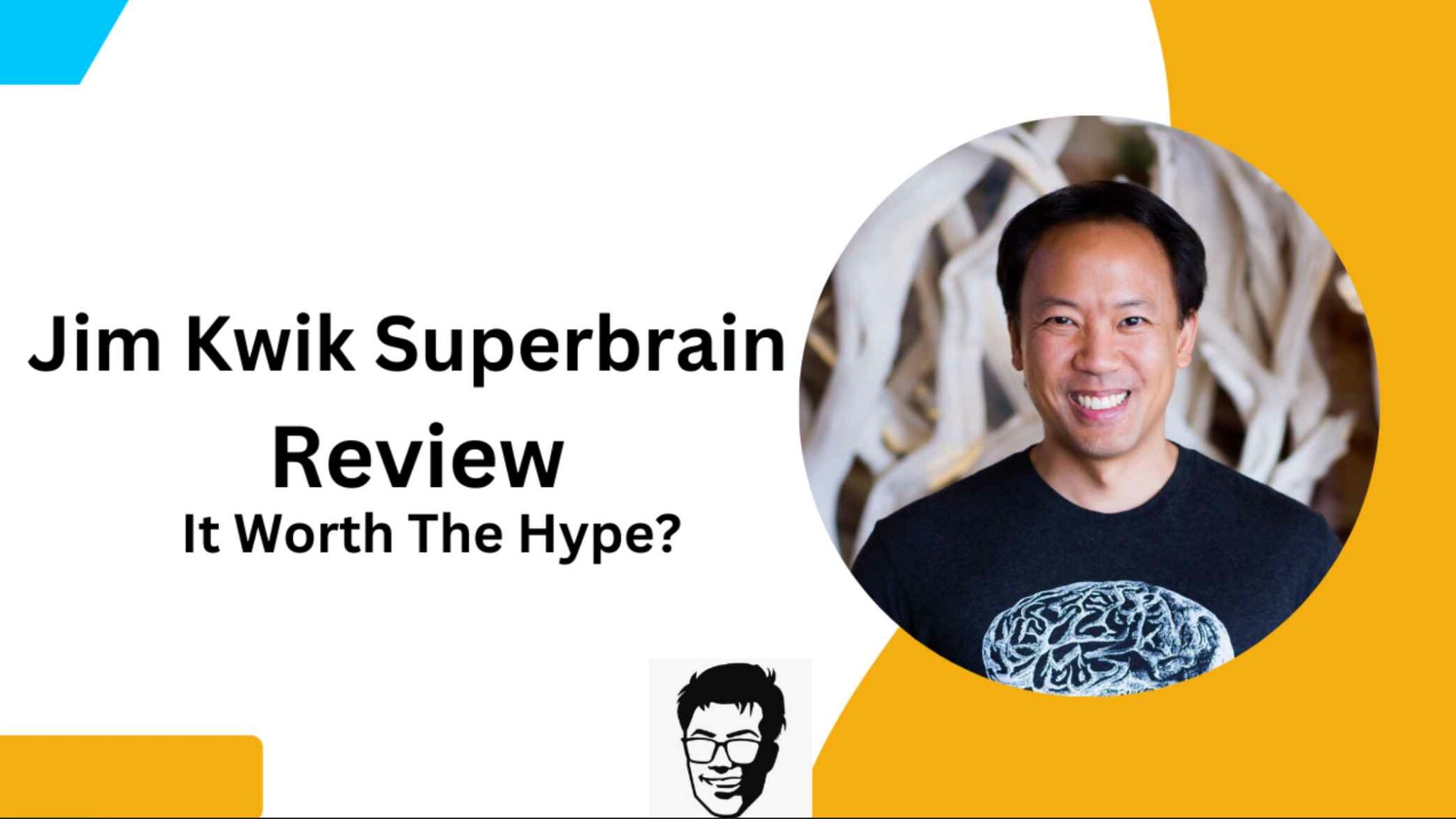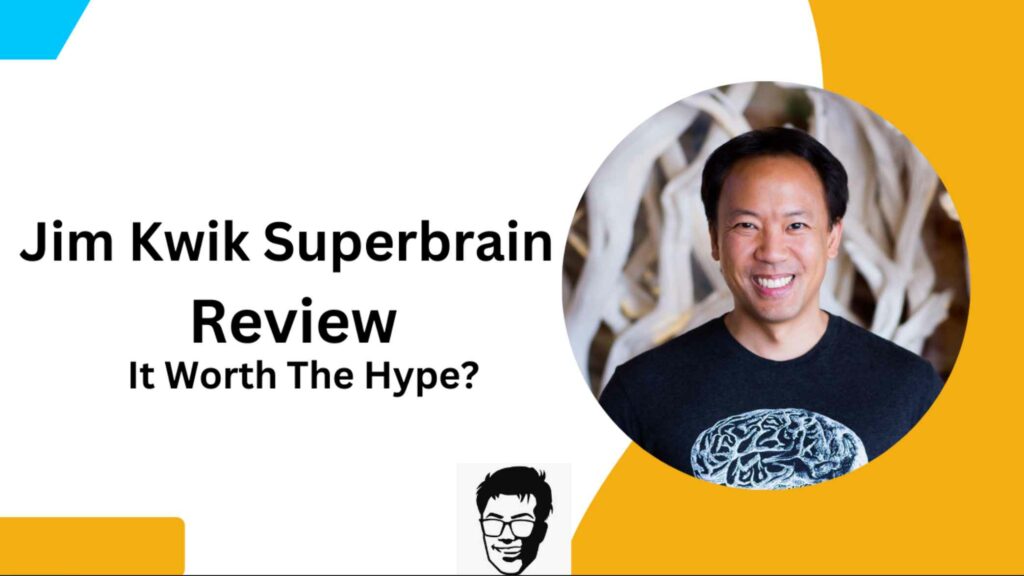 The truth is that most people don't have enough mental energy for everything they want to achieve. They can't focus on their work or hobbies because they're always tired.
In this review, you will find everything you can expect and should know about Superbrain.
At the end of this article, you will know what is excellent and what is not about Superbrain, and it is worth purchasing.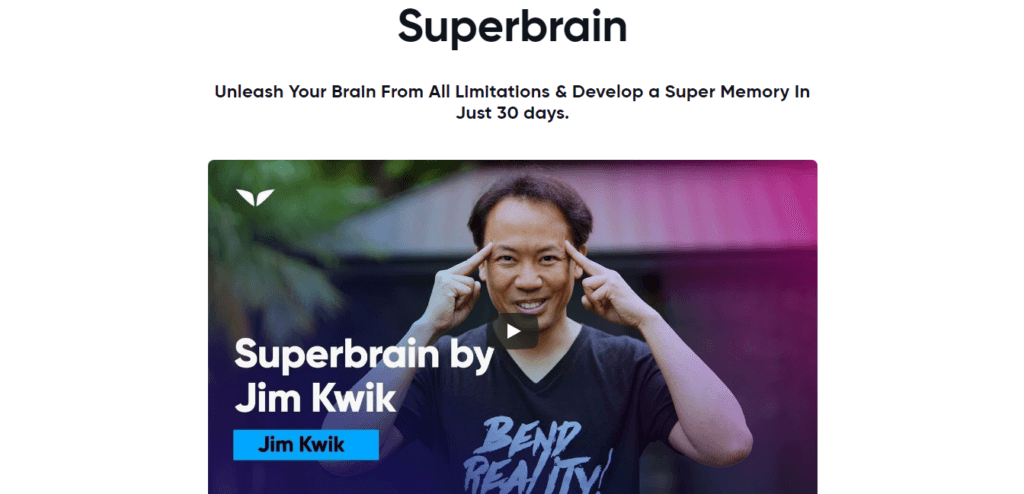 So, let us jump straight into Jim Kwik's Superbrain review.
And before that, if you have questions about Mindvalley, check out my detailed Mindvalley Review.
Who Is Jim Kwik?
Jim Kwik is one of the world's top-rated memory experts. He is an American brain coach, keynote speaker, and founder of Kwik Learning.
Jim is a memory improvement expert, international speaker, researcher, and researcher. He's a world-class speed reader who has dedicated his life to teaching others how to read faster, memorize better, and learn more quickly.
After sustaining a head injury as a child, Jim was inspired to pursue education. He collaborates with some of the most successful businesspeople, including Sir Richard Branson (Virgin Group), Terry Paulson (The Success Coach), and Dr. Wayne Dyer.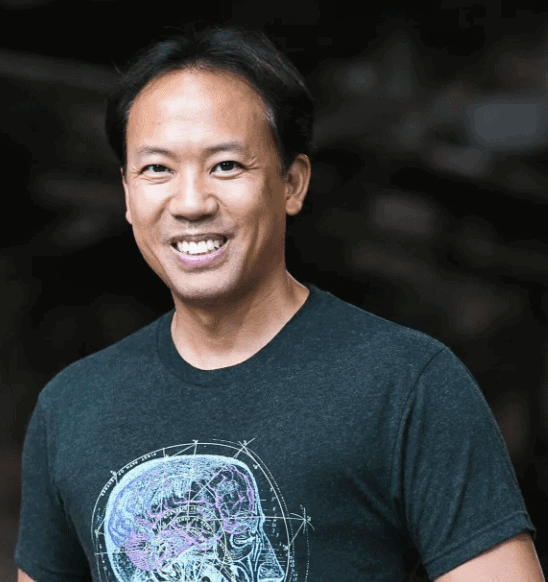 He employs mnemonic systems to assist clients in learning, memorizing, and remembering detailed information in a short period.
He tested some of the most cutting-edge brain learning techniques to see what worked and what didn't. Kwik ended up doing much more than simply healing his brain.
He devised strategies to assist himself and others in discovering their inner genius. He now wishes to reveal these secrets to the rest of the world. His Mindvalley masterclass, Superbrain, shows you how to apply these techniques.
Jim Kwik Superbrain Review 2023: What Is Superbrain?
The lessons in this 30-day Superbrain course are designed to help you retain information more effectively.
You get a four-day introduction and bonus material, which I will discuss later in this article. The course discusses how to learn more effectively and how to forget less.
Jim Kwik is the trainer and instructor of this course. He went through a traumatic brain injury at the time he was young and, for years, struggled in his academics and school. This led him to the path of self-learning.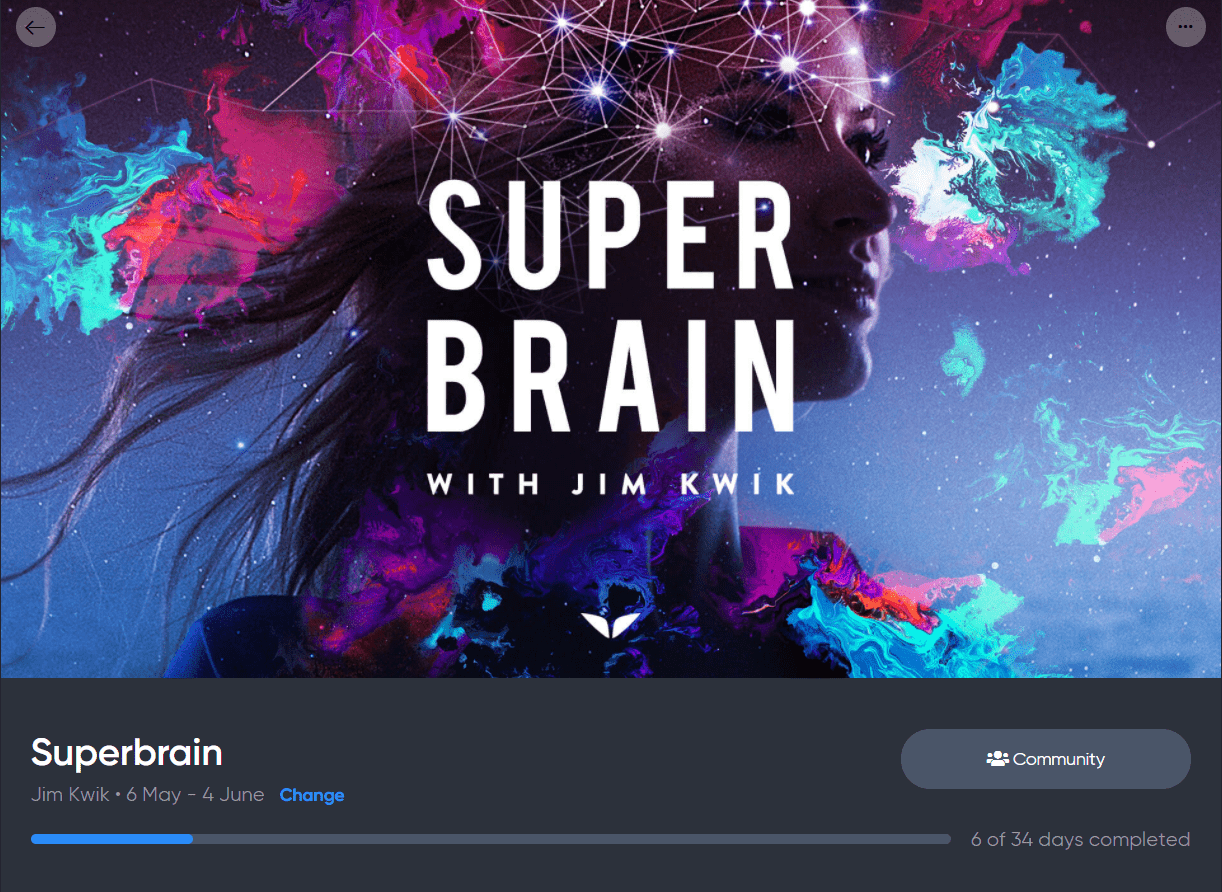 You've probably heard about his story before, as he's a well-known figure in the learning industry. Jim Kwik studied and learned everything he could. His doctors predicted that his injury would have long-term consequences.
But Jim Kwik did not give up and continued researching various techniques for "healing" his brain. And now he's passing on all the techniques he's learned over the years.
If you want to learn more about Jim Kwik's story and what he has in store for you in his Superbrain course, you should attend his free masterclass.
Incredibly, you will also learn priceless memory-improvement techniques.
Who Is Superbrain For?
Superbrain is intended for anyone who wishes to improve their concentration and productivity. Whether you're a student, an entrepreneur, or simply trying to get more out of your daily life, it makes no difference. Superbrain will assist you in achieving your objectives.
Superbrain is for anyone who wishes to improve themselves. It offers enjoyable and educational exercises to help anyone excel in all aspects of life.
Does Superbrain Work? How Does the Superbrain Quest Work?
A common myth surrounding the internet is that Kwik's course is pretty much the same as brain-training applications like Lumosity. But this isn't true.
Superbrain is not about brain training or a course created or designed to test your brain with games or puzzles. At the same time, it isn't a stop-gap either.
Many of these brain training apps claim to be designed to make you smarter quickly. However, most of these claims are unproven and baseless, so most are facing brain training lawsuits.
Superbrain, on the other hand, is all about teaching you tactics and techniques. This increases Superbrain's long-term viability. What's more, it's important in terms of helping you improve your learning ability and overall quality of life.
It does not claim that you will learn anything or that five minutes of gameplay will help you sharpen your mind. Superbrain only discusses scientifically supported techniques and tricks, allowing you to learn what you need to know faster.
It will only work if you practice it, make it a habit, and gradually develop these techniques over time.
Is MindValley Superbrain Worth All The Hype? 
The exaggeration and hype claims made by Mindvalley's sales and advertising page were one of the first things that turned people off in Superbrain, and they may turn others off as well.
For starters, it claims that it will expand your potential in ways you have never seen before and shift your mental model to what you truly believe you are capable of.
Doesn't it seem a little far-fetched?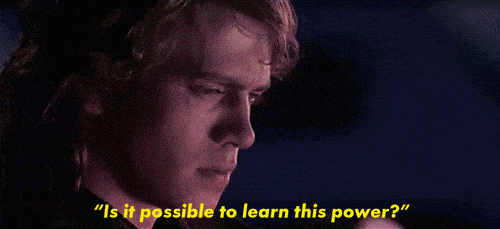 I dreaded that it would not be as powerful in the course, which made me very cynical about buying Superbrain.
But when I hit that play button on the first lesson, my doubts were washed off as I heard Jim Kwik speak. His confident, relaxed, and calm manner made it feel as if we had direct communication.
To add a cherry on top, I could relate to what he was talking about because of the relevance of the content. His expertise on the subject was pretty evident throughout the course.
Even though the marketing of the course by Mindvalley is pretty over-hyped, the course is convenient and relevant.
If you still feel dubious, I suggest you check his masterclass, which is free. This will help you grow aware of his teaching style, effectively putting all your fears to rest. Remember, you are enrolling in the teaching by Jim Kwik, not Mindvalley.
My Personal Experience [Jim Kwik Superbrain Review]
Did I decide to try it after hearing about Superbrain from my colleagues and friends, thinking how hard it would be to try something for 30 days?
I didn't begin with high expectations. This was because I had no idea about what I should be expecting.
Though I found ample information regarding Jim Kwik and what and how he teaches, the information about the course was absent.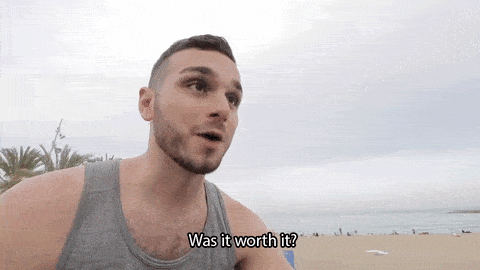 1. Signing Up Process
The process of signing up for the course was pretty easy. Mindvalley allows you to take up a free masterclass Jim Kwik led before signing up.
This will help you clear up your doubts about taking up this course. On signing up, I was provided 12 workbook pages and ten brain hacks available for anyone who signed up for this course.
It is all about the fantastic potential your brain possesses. It is exciting because you have surely heard that the brain stops learning at some point in life.
But if Jim Kwik is to be believed, this is a lie. You can learn even as an adult, which makes the introduction to the course pretty interesting.
I had access to the material for the course the moment I paid. The course is designed and planned, I could see the welcome videos until the start date.
2. Lessons
My busy schedule was a source of concern for me because I might not have enough time to complete this course daily, but I reasoned that I could always refer back to previous lessons if necessary. However, the lessons were so brief that there was no need to go back for a refresher.
Both the lessons and the Brain Bites were fantastic. The videos were very interactive and captivating. Kwik made all seemingly complex topics simple to understand and grasp.
3. Tasks
This is a fascinating part of the entire course. The tasks were amazing, and you can acquire skills to learn better.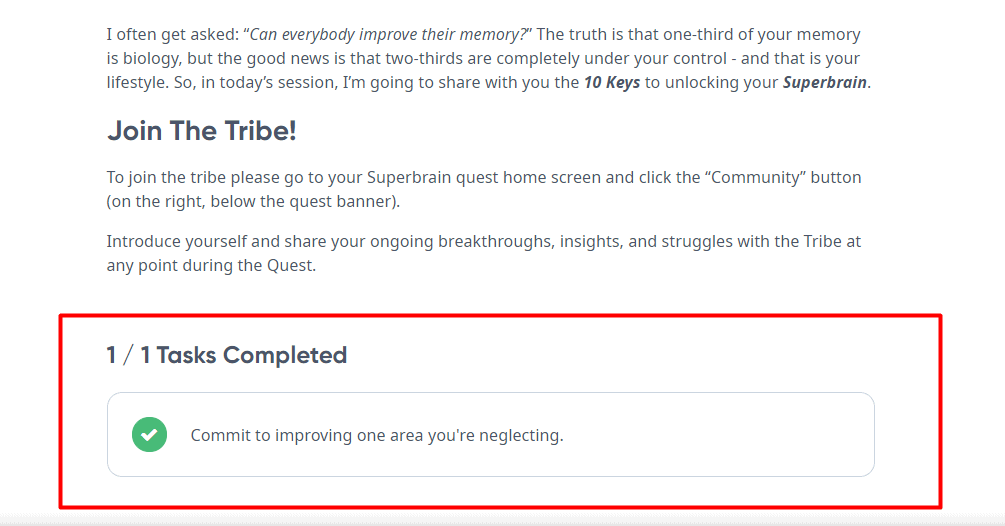 Bringing techniques by Jim to practice can bring about constructive changes pretty quickly. You get practice guides and worksheets to help you implement your learnings.
What Happens After 30 Days?
Once the course was finished, I also went on for bonus videos. These videos beautifully wrapped up everything we learned throughout the course and gave you some ideas to go on from.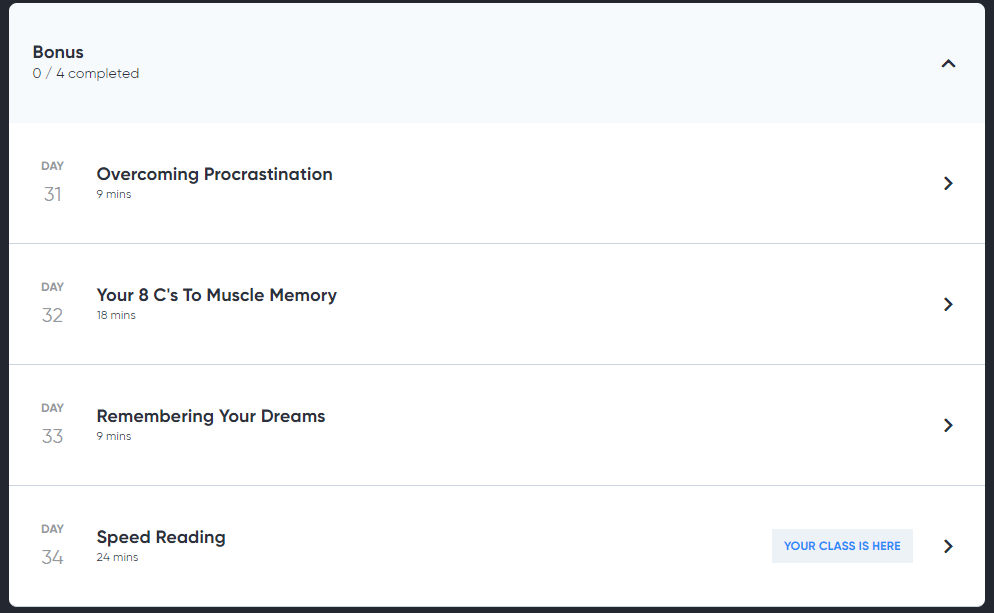 After all 30 lessons, I was left with ample techniques and guidance. Some methods were super easy, while some were relatively tough.
I will not be able to retain all of these techniques. So I can go back to the course videos and keep practicing the techniques I might have forgotten.
SuperbrainWith Jim Kwik: Students Review
Here's what students have to say about the Jim Kwik course.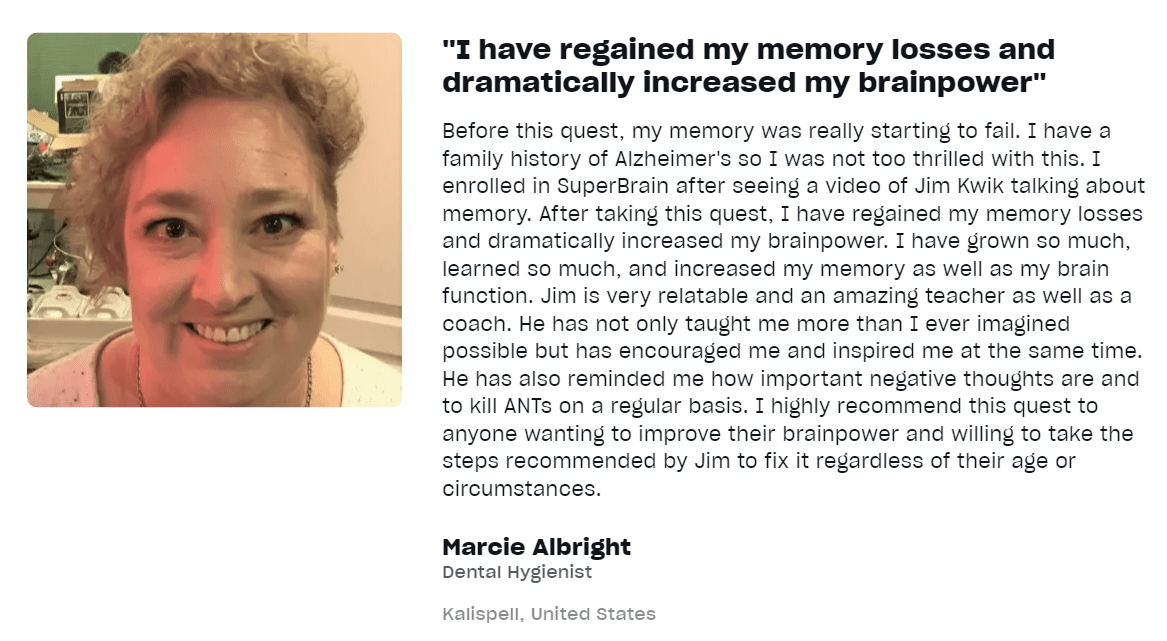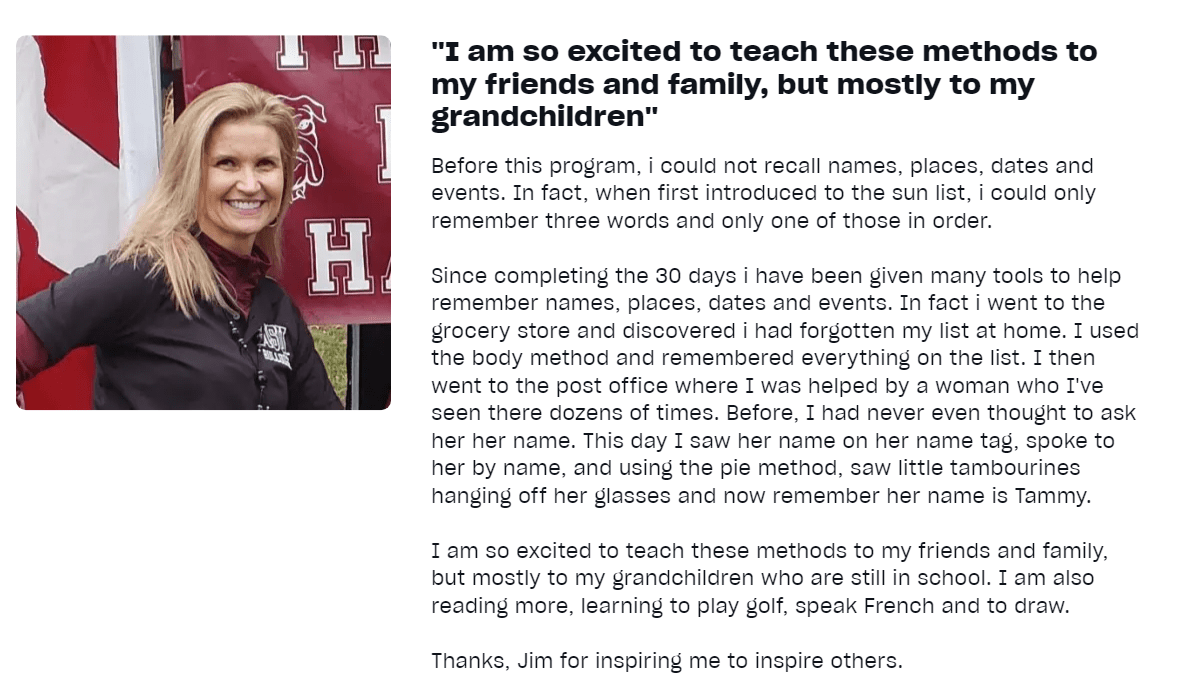 Quick Links:
FAQs:
What is the Superbrain course all about?
The Superbrain course is a course designed by Jim Kwik. This course helps in increasing your brain's learning and memorizing powers.
What are the key features of Jim Kwik's Superbrain course?
Among the many features of this course, the most notable one is its ability to help you learn better and unlock your brain's true potential.
Who must consider taking Jim Kwik's Superbrain course?
Students need to improve their memorizing powers. People involved in the business that requires a lot of thinking and brainstorming are the ones among many others who should consider taking this course to improve their productivity.
Is Kwik learning worth it?
Definitely. The curriculum includes real-world customer success stories to demonstrate that it works. Even Richard Branson, Bill Gates, and Elon Musk have praised its power in changing the brain, as have other notable figures such as Steve Jobs and Warren Buffett.
Is Jim Kwik authentic
Jim Kwik is a real expert. Jim is an accomplished keynote speaker, trainer, and speed-reading coach. Jim's programs are effective and high-quality, and his material is world-class. He also happens to be genuine and a fantastic example of someone living his purpose and goal.
Is Kwik learning free?
The cognitive training program, as you may have learned from various articles on Superbrain, includes a free Masterclass that takes 90 minutes to finish. It also offers premium services in which the instructor explains all of his methods.
How much does Superbrain with Jim Kwik cost?
A yearly membership to MindValley costs $499.20 ($41.60 per month). This gives you access to Superbrain and all of Mindvalley's other courses, as well as being included in your monthly membership for $99 or purchase the course separately for $449.
Conclusion: Jim Kwik Superbrain Review 2023
Mindvalley has been constantly recognized for excellent courses. Even though I had some problems with the course, the overall advantages and goodness overshadowed the bad ones.
I often use the techniques taught in this course without even knowing. My quality of life is better due to this course. I want to thank Jim Kwik for giving me what I learned in this course.
In my opinion, with all the experience I had, Mindvalley Superbrain proved to be worthy of every penny I spent on it.
The course was well-designed, and I learned a lot in these 30 days. I even use some of these techniques daily, which helps me recall important information and remember things.
If you are a student, the Mindvalley Superbrain course will greatly help you study.
It is more than obvious that I won't be using all the techniques mentioned in this course, and I don't think anyone else will. However, the course is worth my money. Moreover, the course helped me remember things better and much easier.
I would surely suggest you take this course in search of a technique or way to learn fast and remember better. Jim Kwik's Superbrain course is worth every penny and helps improve your brain's power.