I'm always looking for great platforms to learn about tech and expand my knowledge. Recently, I came across Brilliant.org, an online learning website that claims to change the way we learn STEM subjects.
It got me curious, so I decided to give it a try and see what it's all about. Now you might be wondering, why to review Brilliant.org.
Well, it's because Brilliant.org has gained a lot of attention and praise for its unique approach to teaching STEM. It has become a popular choice for millions of learners worldwide, and it's making a big impact on education.
So, I want to share my thoughts on Brilliant.org and explain why it's worth considering for people who want to improve their understanding of science, technology, engineering, and math.
By reviewing Brilliant.org, I want to highlight its strengths, show how it benefits different types of learners, and explain why it's a valuable resource for anyone who wants to expand their knowledge in STEM subjects.
I believe that Brilliant.org offers a fresh and engaging way to learn, and it's worth exploring for those who are curious and eager to improve their skills in these areas.
Brilliant.org Review: What is Brilliant.org?
, a renowned innovator of online learning, founded Brilliant.org in 2012 as a community-driven online learning platform. In addition to being named to Forbes' "30 under 30 in education" list, Khim developed brilliant.org.
Various STEM-related subjects are taught online through Brilliant.org. A current list of 60+ courses includes topics such as neural networks, solar energy, and cryptocurrency.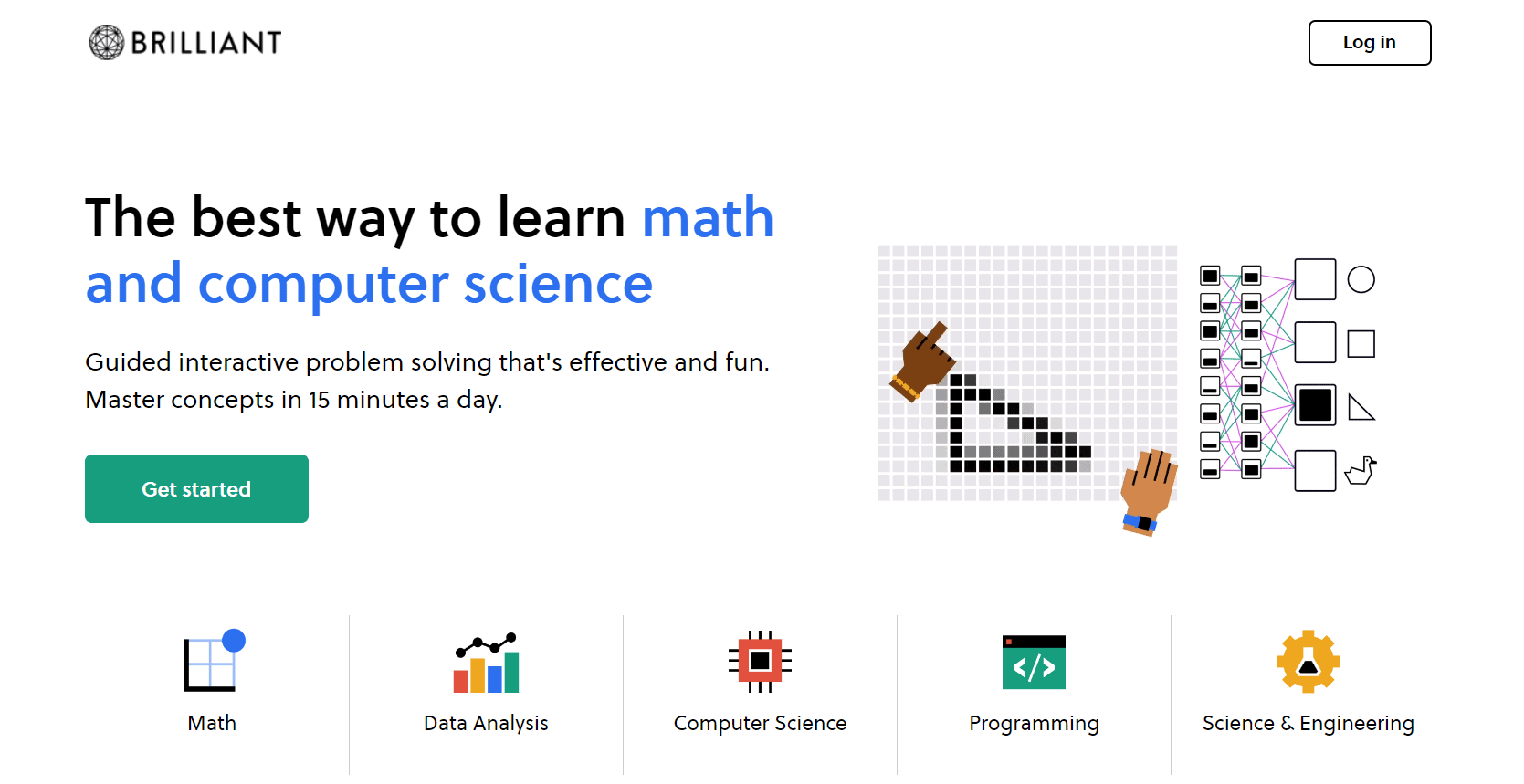 The list is endless. In the following paragraph, we will go over everything taught on Brilliant.org in great detail. Brilliant.org is more than just a collection of video courses. Brilliant.org recognizes that learning a new skill entails more than just watching video tutorials.
Especially if you're learning a difficult skill like quantum computing, linear algebra, or Python programming. All of the lessons are supplemented with interactive exercises, quizzes, and daily challenges.
Brilliant.org materials should keep students as engaged as possible. Gamification is becoming popular in e-learning. Brilliant.org has fully embraced this concept in its approach to teaching.
Brilliant.org Pricing Plans
Brilliant Premium subscriptions are available in 3 payment options:
$24.99 per month for a monthly subscription. To cancel your subscription at any time, you'll have to pay this fee.

Subscriptions are $129 a year ($10.83 a month). The subscription plan is more cost-effective than the monthly plan by two times. There is also a requirement that you pay for the entire year in one lump sum.

$299.88 for an annual subscription for 3+ people. The Brilliant Premium account will be available separately to each member of the group, and the pricing can vary based on the final number of subscribers.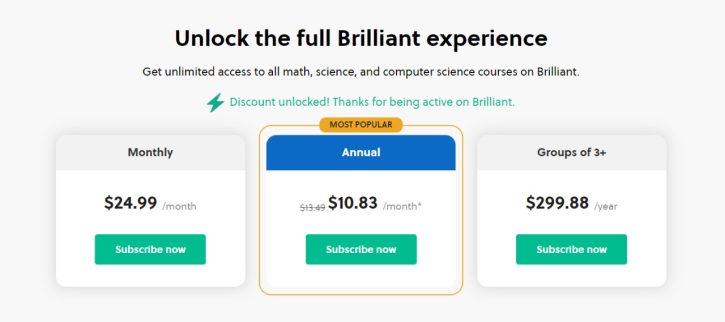 Exactly what will you get when you subscribe to Brilliant Premium? Here's what you can expect.
How much does Brilliant Premium cost?
The following benefits are included in a Brilliant Premium subscription:
Brilliant.org offers all courses. Unless you sign up for Brilliant Premium, you'll only be able to view the first chapter of each course. In addition to quizzes, puzzles, and other interactive lessons, all courses come with an uncountable number of quizzes.

Offline mode:

The offline mode of Brilliant lets you learn on the go without an Internet connection.

Guided courses:

Expert-led courses in math and science are available through guided courses.
Additionally, subscribers to Brilliant.org receive full access to daily challenges. A brain-wrencher is usually a new concept or a quick challenge. It keeps Brilliant.org subscribers' neurons firing all the time.Register on the site if you are interested in subscribing to Brilliant. Every user can try Brilliant.org free for two days after registering. You can access all the content on the site for free during the 7-day trial period. The free trial is a great opportunity to see whether the teaching style and content of Brilliant are right for you.
Brilliant.org Review: Pros and Cons
We have Some Pros and Cons of Brilliant.org
Brilliant.org Pros
The best learning experience we've ever seen (the most engaging and interactive)

Enhances intellectual curiosity

Learning aids with strong visual appeal

Enhances your ability to solve problems

This tutorial is great for students who are struggling to keep up or want to get ahead

Helps you build your mental model toolbox
Brilliant.org Cons
Limited course selection (only STEM courses)

Career advancement is not recommended

Prices are a bit high when billed monthly
Quick Links:
Conclusion: Brilliant.org Review 2023
All things considered, the Brilliant subscription was well worth the money. I was impressed by the platform's interactivity, gamification of difficult-to-learn skills, and overall user experience.
Because I am a visual learner, the entire platform felt tailor-made for me. I jumped right into Brilliant during this review. The courses I discovered were well-designed, informative, and enjoyable.
This task is remarkable given that computer science and artificial neural networks are notoriously difficult subjects. I found myself spending hours solving various puzzles and tasks.
Furthermore, I always looked forward to the daily challenges. As a result, would I recommend the platform to people interested in STEM? Definitely. I certainly would. It is worthwhile to learn math and science with Brilliant Premium.
The subjects covered are nearly essential in the field of digital work. Knowing the fundamentals of computer science is a significant self-investment in the digital age.
If math and science are not your interests, you should look elsewhere until Brilliant.org's course catalog is expanded.
Brilliant.org is highly recommended to students interested in math and science online because it fills a unique niche in the e-learning industry.