Looking for an unbiased Mindvalley Silva Method review is legit or not, I got you covered with proof and personal experience.
I'm on a spiritual journey. When I meditate, read spiritual texts, and think about as many different ways to help myself, actualize, and be spiritual as I can think of.
That's why I came across Mindvalley's Silva Ultramind System. I wanted to keep moving forward on my journey to becoming a fully realized person.
It says that it will help you use your mind to make your dreams come true in real life. Sounds good to me. For that reason, I signed up for the four-week course. I'll let you know how it goes.
The answer is: It all depends on what you want.
Mindvalley Silva Method Review: What is Silva Ultramind?
This system, called Silva Ultramind, is based on meditation and is used to make your mind more powerful.
Site: "Optimized framework for unlocking the full potential of the mind." My understanding of what it meant wasn't totally clear, so I decided to research it a little more.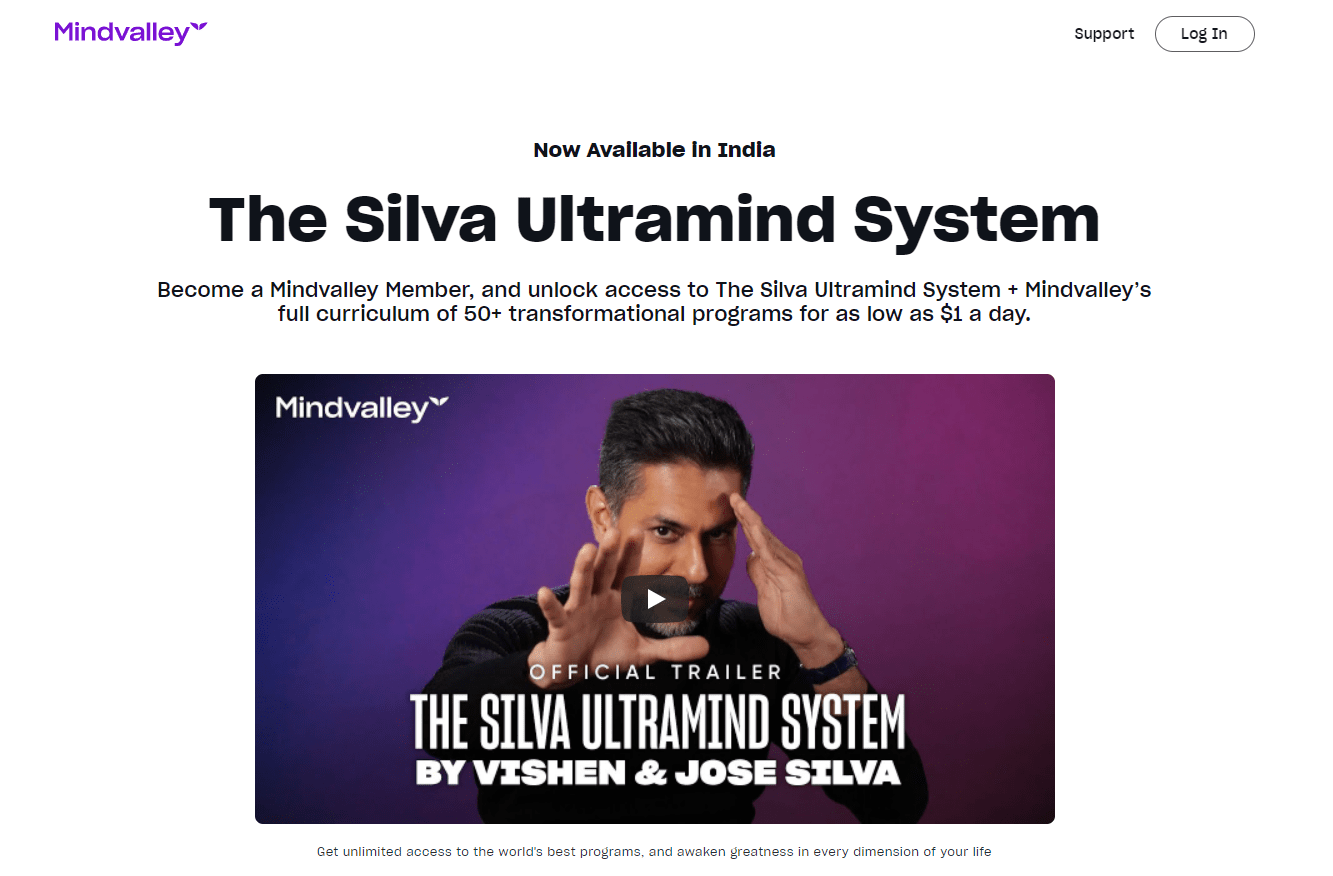 There are four supposed levels of consciousness, and this process is supposed to help you learn about them and learn how to use them for different things. It also helps you improve your mind so that you can develop different levels of understanding and spirituality.
Silva Ultramind caught my eye while I was on Mindvalley. I signed up for the service, too. When you look at Mindvalley's sales pitch, it doesn't seem like it should be there. There is a new company called Mindvalley, too.
How Much Does Silva Ultramind Cost?
Courses on Silva Ultramind can be found on Mindvalley, which sells it. People who want to take courses at Mindvalley have two options: They can pay for a single course or all 30+ courses.
Ultramind alone costs $399 or Mindvalley with 30+ classes costs $599. So, for an extra $200, you could get 30x as much content.
How is Silva Ultramind Structured?
The class is spread out over four weeks. We use meditation techniques each week to help you improve your mind's ability to control the four levels of consciousness.
How long does the class last? It's spread out over 28 days with 12 hours of instruction. Most of the videos last about 15 to 30 minutes.
They're pretty simple to put together: When Vishen talks to you one on one, he tells you about the technique he wants to show you.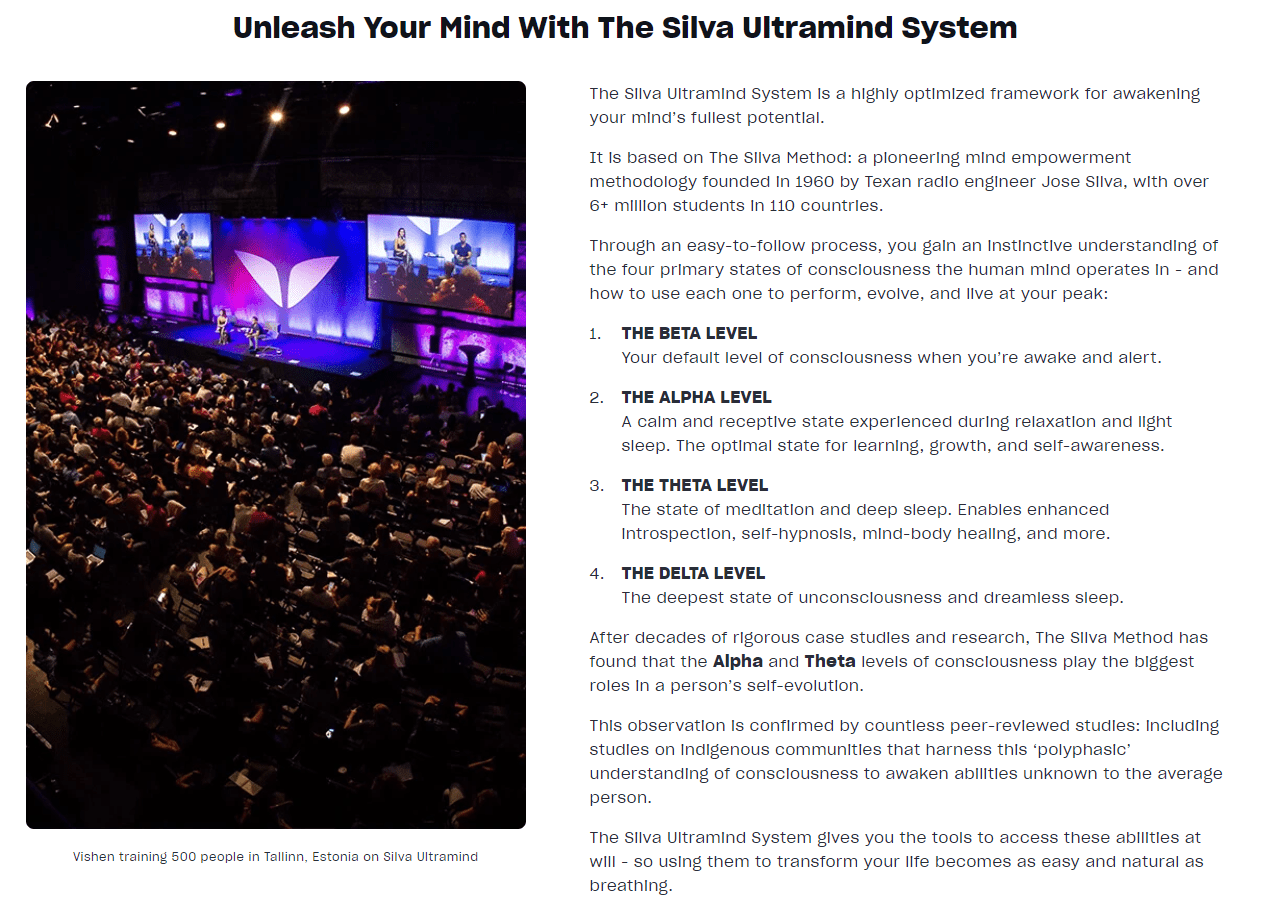 He walks you through the basics of it and then asks you to look into it more on your own through the different audio resources that are out there for you.
These audio resources are used by Vishen to help you move between different states of consciousness during your meditation. They help you stimulate different brain waves.
FAQs On Mindvalley Silva Method Review
How long does the Silva Ultramind quest take to complete?
The time required to complete the Silva Ultramind Quest is 28 days, which includes all four components of the quest. You just must give up 10-15 minutes of your time each day to achieve results.
How many parts comprise the Sliva Ultramind System?
The Silva Ultramind method is divided into four sections: Your Ultramind Foundation, Knowing The Unknown, Attaining Your Soul Desire & Healing, and Channeling Your Ultramind Into Your Life.
Can I receive a refund for my Mindvalley membership?
Mindvalley's return policy specifies that you may receive a refund on your Mindvalley membership purchase within 15 days of purchase. This time is plenty for you to determine if Mindvalley is the appropriate fit for you.
Quick Links:
Conclusion: Mindvalley Silva Method Review 2023
Courses by Mindvalley can be very educational or even mind-changing, like The Silva Method, which is very interesting.
The Ultramind is the most recent version that can be found on the platform right now. Mental peace and stability are important if you want to stay excited and happy
This program is very important if you want to be more focused and smart. The Silva method program removes negative thoughts from your mind and improves your ability to think more quickly.
It helps you understand more people, animals, and things that are near you. It's open to anyone who needs it. This program will help you understand what is going on in your mind and help you win the fight against negativity in your life.
Many people like to take these classes because they can relax their minds and see things in a new way. If you want to make the best decisions for your life, this book gives you enough information to help you do so.