Have you ever thought about how much work you would have to do on Amazon to make your product more likely to sell?
Now that you know more about Sellerboard, it's the best tool for Amazon sellers and business owners to use to do research on products.
Sellerboard is a place where Amazon sellers can find all kinds of tools to help them stand out or get an edge over other sellers on the market.
Even though each tool in the suite is designed to do a different job, you can use a lot of them together to improve your Amazon products faster.
So, let us find out more in detail about Sellerboard and its features in my detailed review below.
Sellerboard Review 2022: Sellerboard Best Features
Let's Talk about the features of sellerboard:
1. Dashboard
Sellerboard's dashboard provides a quick overview of your most important transaction data. You can see your sales, the number of units ordered orders, refunds, estimated payout, gross profit, and net profit by specific time periods (yesterday, today, and this month).
You can also see a detailed breakdown of your Amazon fees, such as PPC ad spend, selling fees and commissions, costs of Refunds and returns, as well as promotion costs. Your prep center and virtual assistant fees can also be viewed.
2. Sellerboard Charts
You can quickly look at and analyze your key performance indicators with the Sellerboard charts (sales, profit, number of units, cost of return, etc..).
The charts are easy to set up and can be changed in many ways. You can change the time frame (last year by month, by day last month) and the size of the information shown.
Markets and products can also be limited. If you want to know more about a product, you can view a detailed product description and a full summary of your product list.
3. Profit and Loss View
This feature is helpful for your business because it gives you a very detailed breakdown of your sales and costs (both Amazon fees and business costs).
You can choose the time periods, the amount of data shown, and the marketplaces and products that were ordered and shipped during those time periods.
4. Trends
You can monitor your business's profitability with Sellerboard's Trends feature (best seller ranking, returns, profit, sales, etc.). Set a KPI and a period to see how your products perform each month.
As you can compare the data between this month and last month, or sort the table to see which KPIs have decreased significantly, you can make quick decisions about your non-performing SKUs.
5. Cashflow Management
Sellerboard lets you make good decisions about how to run your business because it lets you predict your cash flow accurately.
With this feature, you can add more cash you put into your business, for example, the price of goods, dividends, and even value-added taxes. Payments and costs are also filled in automatically by Sellerboard.
6. PPC Ads Optimization
With this feature, you can easily track and improve your PPC campaigns, ad groups, and keywords to make sure they continue to bring in money.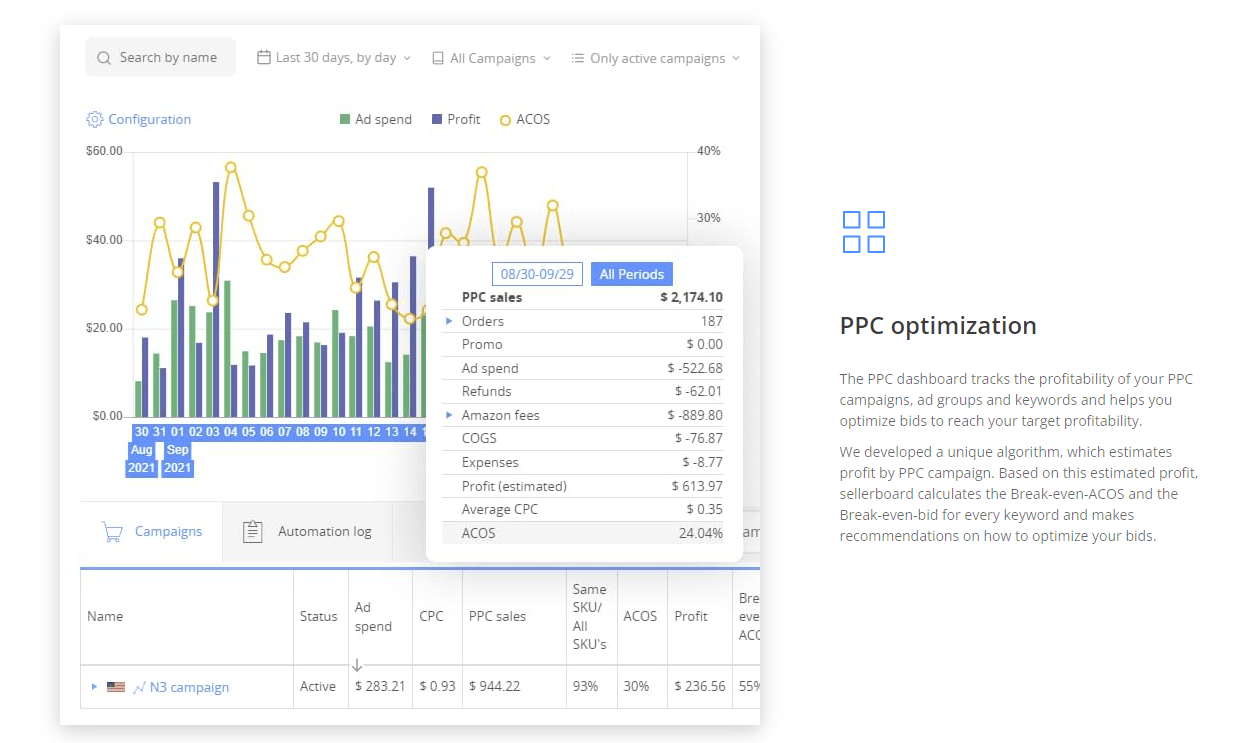 Sellerboard uses its own algorithm to figure out how much money a PPC campaign is likely to make. Using this estimate, it makes bid optimization suggestions based on the keyword bids and the break-even ACOS.
7. Product Breakdown
You can see the specific details (profit, actual sales, fees, and expenses like COGS, PPC spend, return costs, and VAT) of any product in your inventory at any given time.
8. Amazon Fees Table
Detailed breakdowns of all fees and reimbursements are provided here, including storage fees, long-term storage fees, inbound shipping, remission, and labeling fees.
9. Fixed Costs and Expenses Monitoring
Sellerboard lets you keep track of all of your fixed costs, recurring costs, and product-specific costs, like warehouse maintenance, software tools, virtual assistants, the cost of samples, etc.
10. Inventory Management
Sellerboard helps you avoid stock-outs by letting you know when it's time to restock your FBA warehouse or when you need to reorder from your supplier.
All you have to do is give the production or shipping time, and Sellerboard will figure out the lead time based on how fast the product sold in the last 3, 7, and 30 days.
11. Data Export
A spreadsheet or text file can be exported from Sellerboard (by product or time period) for editing in tools such as Excel.
12. Automated Reporting
You can manually download data reports in a variety of file formats on the "Reports" page. You can also use Sellerboard's automation feature to set up a time for these reports to run on their own.
You will be able to get these reports as an attachment to an email or as a protected web feed, which you can then add to other programs like spreadsheets.
13. Automating feedback requests and sending follow-up emails
With this feature, you can send automated messages to your customers to get good feedback or reviews of your products and to improve customer service.
You can use Amazon's standard "request a review" message template or create your own email templates.
Make email campaigns targeted to specific products, countries, markets, or previous customers. You can also set a schedule for when certain messages will be sent.
14. Incomplete returns, lost stock, damaged stock, and destroyed stock are eligible for a refund
When Amazon owes you money, Sellerboard tracks down the instances and prepares a reimbursement message template. You are entitled to reimbursement in the following cases:
Amazon employees damage or lose inventory at the warehouse.

The customer received a refund but did not return the item.
15. Users and Rights Management
You can give access to your Sellerboard account to more than one person.
Each user will have their own login information, and you can limit their access to only certain parts of your account by setting their permissions.
16. Listing Change Alerts
You get an email from Sellerboard if there are changes to your listing that you need to take care of. The following will be sent to you:
A change in the title, description, main image, and category of the product.

There are new sellers on the listing.

Product dimensions, FBA fees, or referral fees may change.

Feedback from customers that is negative or neutral.

A parent ASIN is removed or changed, or a new child variation is added.
Quick Links:
The Final Verdict: Sellerboard Review 2022
Still, it is a great tool for figuring out how much money you can make if you want to sell different kinds of products on Amazon.
The Sellerboard tool and services, which can be bought for a reasonable price, are more important and valuable than all the Amazon seller tools and services that are out there.
As long as you know where you want to take your products on Amazon and how far you want to go, using Sellerboard tools and services will make things easier than you thought.