Are you looking for a WildFit Review? If so, please read this article thoroughly.
WildFit is the ideal solution for anyone looking to establish healthy habits or improve their fitness. The program combines behavioral modification with nutritional information to assist you in making long-term changes.
I tested it out myself to help you make the right decision, and as a fitness enthusiast, it was easy for me to follow and give you an honest review on WildFit.
WildFit Review 2023: What Is WildFit?
Mindvalley offers a three-month program called WildFit. You can choose what to eat. Understanding how your body reacts to food will help you make better food choices.
A healthier lifestyle is also emphasized, both in the short and long run. You should try this program if you hate counting calories or exercising.

The program doesn't promote weight loss, but you'll benefit from it by losing weight for a more ideal waist-hip ratio. But that's not all.
Similarly to Superbrain, it can improve your mental focus. Likewise, it makes your skin look younger, improves your sleep, and alleviates respiratory problems such as asthma.
Overview Of  WildFit Diet
WildFit Quest is a community that supports others in the recovery process from medical issues. To stay fit and eat healthily, you will need to follow a daily learning process.
You are also required to invest ten minutes a day to work towards your body goals under the micro-learning concept.
The program is open to anyone who wants to learn more about the development of his or her body. There are three parts to this program. Here's what you need to know:
Part 1: Learn The Basics
You must devote the first two weeks to learning about the fundamental foundation of your future health. These include life coaching, video, group talks, and Q&A.
Using this section, you may be able to control and simplify your six human hunger attacks. It is intended to teach you about food and change your attitude toward it.
Part 2: Including a Natural Human Diet
This program is presented twice a week from week 3 to week 10. Following the video's instructions will necessitate a slight modification to your diet.
This program includes Q&A in addition to live coaching, videos, and a group mastermind. In addition to better sleep and energy, you may lose weight, be happier, and have fewer mood swings.
Part 3: Rapid Weight Release
The program lasts between 11 and 13 weeks. You can lose all of your unwanted pounds by using the tools in this section, which will eventually lead to dealing with your health issues and losing a lot of weight.
There is also a bonus package of 19 live group coaching sessions.
My Personal Experience with WildFit: Did It Help Me?🤔
This is the meat of the review. I've always been a fantastic foodie, and I still am. I had the least amount of control over my desire for food, and I knew I wasn't making the best decisions.
The most difficult aspect for me was resisting the temptation to eat bad foods. This is when I discovered Mindvalley's WildFit program.
I noticed a YouTube video where a YouTuber reviewed the program, which grabbed my interest. So I decided to give it a go.
I didn't notice any significant changes in the first two weeks. Of course, this was the first phase, and we were instructed to maintain our current eating habits without making any adjustments.
However, as the program progressed, the compelling facts, very well-structured courses, and live coach calls gradually helped me adjust my eating choices.
Everything was described in length and supported by logical arguments, which helped me understand why I want certain things and how I can rewire my brain to believe that I don't truly need them right now.
In addition, I learned about my ideal weight and how to maintain it without resorting to fad diets. The approach allowed me to eat anything I wanted without feeling restricted by the appealing packaged goods.
Now I can eat nutritious meals that meet my body's natural needs without worrying about gaining weight. I'm writing this review six months after finishing my WildFit program, and I can honestly state that it was a life-changing event for me.
If you've tried many diet plans and gone to the gym, but they've all failed, you should give WildFit a go.
Quick links:
Conclusion: WildFit Review 2023
WildFit has a lot to offer if you want to replace your unhealthy lifestyle with a healthy one. It takes 90 days, which is a significant disadvantage. However, because this is not a fad diet, you will most likely see long-term results.
The instructor will also repeat the material throughout. It was annoying at first, but it made sense once I started forgetting some of his lecture material.
One of the best aspects of this program is that no special vitamins, supplements, or exotic shakes are required. You can get locally available food at your local supermarket.
Furthermore, despite the fact that it may be costly, it allows people to pay in installments. The program also includes a money-back guarantee and no-hassle refunds. It can be launched at any time.
It only takes one click. There will be no emails or phone calls. If you want to change your lifestyle for better health, the WildFit program is well worth the money.
WildFit on Facebook
WildFit on Facebook has 4.9-star ratings with 264 reviews.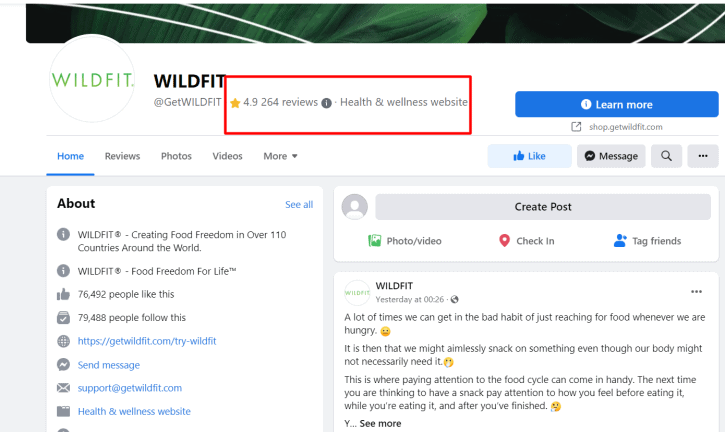 WildFit On Instagram
Get Wild Fit on Instagram has 1,048 posts and 32.3k followers.

WildFit on Pinterest
WildFit on Pinterest has 36.3k followers.