Bill Gates rightly said, "If your business is not on the internet, then your business will be out of business."
The global pandemic stirred digital and e-commerce businesses up to a great extent in 2020 and since then, the e-learning industry has significantly stepped up its game. 
So, are you looking to take charge and thrive as a digital educator? If that's a yes I hear, this right here could be your turning point. In this article, we will throw light on two of the most trusted and recommended online learning platforms – Graphy and LearnDash.
Now, so as to analyze both these platforms, it is crucial to learn which is best suited for your business needs, considering the features, tools, and functionalities available in both.
Both of these platforms went booming since the pandemic hit the market. While Graphy and LearnDash are known for similar product offerings, there are notable differences that can impact your business in many different ways.
Let's get you a detailed insight so that you can make a wise choice between the two.
Graphy VS LearnDash 2023
Graphy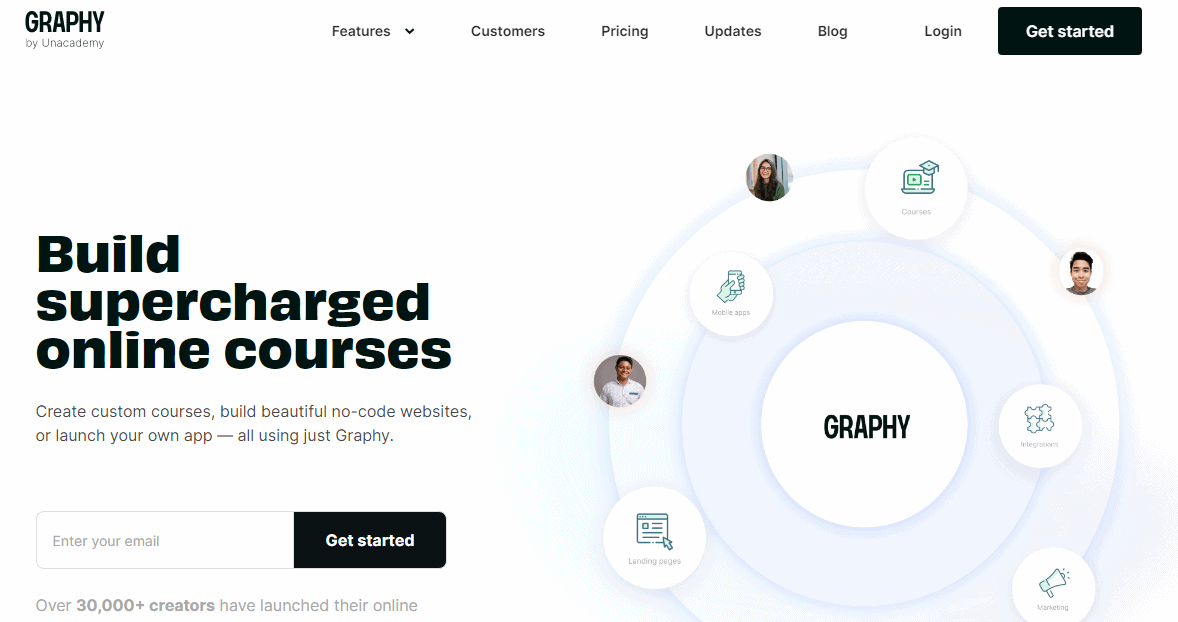 Graphy is a SaaS-based platform that lets you create courses from the ground up and sell them to a wider audience through the various advanced in-built marketing tools that come with the platform.
Their DIY website permits users to design customized sites with their own branding and sell their courses on it. Moreover, it also supports mobile applications (both Android and iOS) for you to host your courses on.
Being a platform that offers great opportunities to share and monetize your knowledge, it has garnered great trust amongst the educator economy. It is an amazing service for anyone who wishes to establish and run an online business of their own by leveraging their skills.
Its user-friendly features cater to the business needs of all small educators, knowledge-based businesses, trainers, speakers, and coaches to large companies and professional associations.
Graphy permits organizations to host educational websites with the use of custom domain names, accompanied by integrated payment gateways.
It also allows the students to connect with their instructor or with each other through live chat and discussion forums. With the help of its drag and drop interface and predefined templates, launching a professional site becomes easy as a cakewalk and yet looks stunning at the same time. 
Apart from this, educators can keep a record and manage their students' activities, ranks, results, and other metrics via reports.
The platform has a couple of handy options that let you create not just video-driven courses but with its multimedia support, add audio content, images,  assignments, PDFs, forms, and  Sharable Content Object Reference Model (SCORM) as well.
LearnDash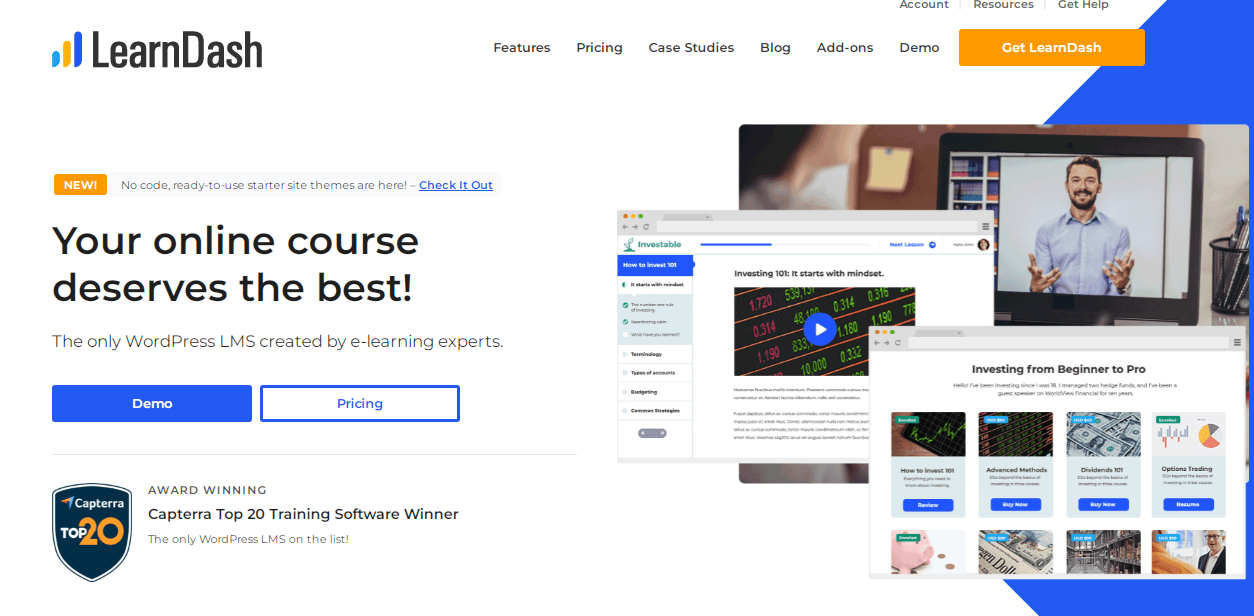 Similar to Graphy, LearnDash is also a web-based platform for online educators and coaches to generate and deliver digital content.
It is a premium LMS (Learning Monitoring System) plugin that facilitates the users to create and sell their courses online from the convenience of their WordPress Dashboard.
It brings a wide range of powerful and highly customizable features into play through WordPress, thus making it workable for both solo course creators and serious academic institutions.
If you're looking to sell your courses and manage all your business activities in one place with an active WordPress site in place, LearnDash is the right tool for you.
It can assist you to add unlimited topics and lessons, create unlimited courses and quiz your learner with the Advanced Quizzing feature to ensure thorough learning. They also have some key features like Dynamic Content Delivery and Flexible Prerequisites. 
Apart from this, it also acts as a great tool for businesses who wish to offer training to their employees. For example the 'Built To Grow With You' section allows you to add gamification content for micro-courses, and group your specific subject learners into cohorts. 
Features of Graphy  
1. Top-notch Security: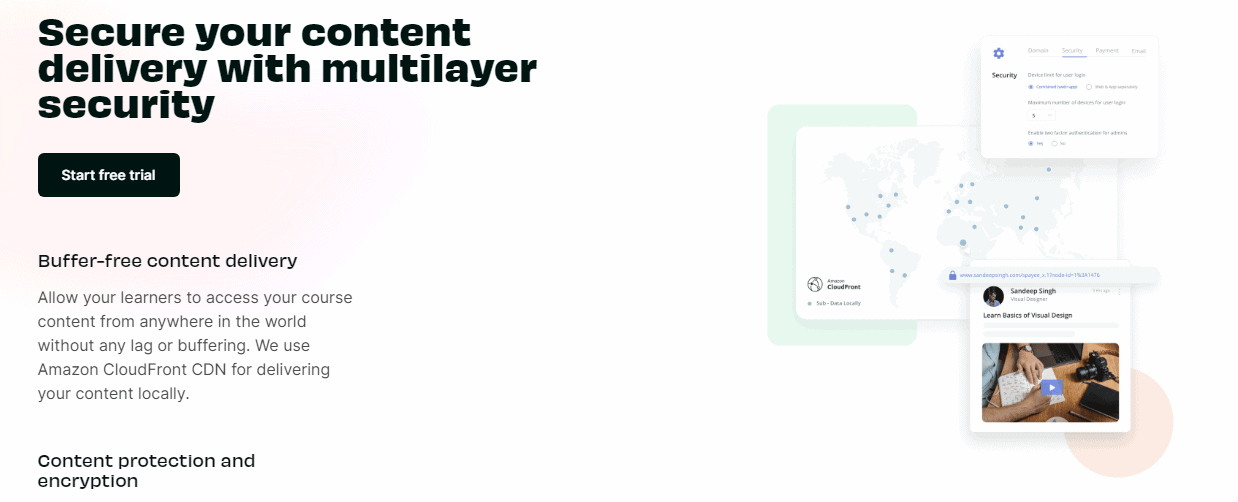 Graphy prevents piracy and unauthorized access to the content uploaded on the platform through its Content Protection and Encryption feature (Digital Rights Management).
The videos are broken down into multiple segments and an alphanumeric key is attached with it that protects it. This key can only be unlocked by them. They do not even store the raw files – which means even they cannot download them from the backend. 
 As a step-ahead, there are restrictions to screen-recording as well.
With the Dynamic Watermarking feature in the picture, if anyone tries to illegally screen-grab the video or a live stream, the user's personal information i.e, the person's name, email address and phone number will keep flashing in different parts of the screen as a watermark.
So, if someone leaks the video, he/she will be leaking the source with it. 
 You get the Login Device Restriction feature which can let you decide if you want to limit the number of devices through which learners can access the course.
For example, if you set the count to '2'. and the learner logs in from his laptop and mobile, the course access would not be given to any other devices. To make it even more secure, they only allow access from one device at one particular time.
It's not just the website that provides protection. The mobile apps are also completely secure which means it does not allow screen recording, screenshots, screencasting, and do not work on emulators.
Moreover, it offers Secure Offline Downloads for the sole purpose of targeting people in remote areas.
2. Online Community & Engagement:
No online business works its way up the graph without an online community to leverage on. Graphy, on that note, offers two different communities that go by the name of forums.
One is specific to the courses uploaded – for instance, all the people enrolled for the course of Business and Finance can have their own course discussions in that forum.
A student can be part of the discussion only if enrolled in the course. Public Forum on the other hand is one that facilitates discussions among all the students, irrespective of the course they are enrolled in.
The kind of course i.e., free or paid doesn't matter. Everyone who has purchased one of the courses can get access to the Public Forum.
Graphy also helps the educator to get the chance to interact with everyone through these forums because the more the engagement, the better are the chances of converting them into paid users. 
 Graphy also offers an interesting feature called Messenger. Have you ever received witty notifications from Zomato like "We know you haven't eaten since morning. How about we send over a cheese burst pizza?".
It kind of sparks the foodie in you, doesn't it? As an online educator, you too can create customized notifications on the Graphy platform and excite your people to have a look at more offerings.
You can set up a campaign and the audience you wish to target. So, people who haven't been very active in the past can now get a customized notification from you, reminding them to revisit. What is to be sent, how to send it and when to stop the campaign, all of it is up to you!
In-built Marketing Tools: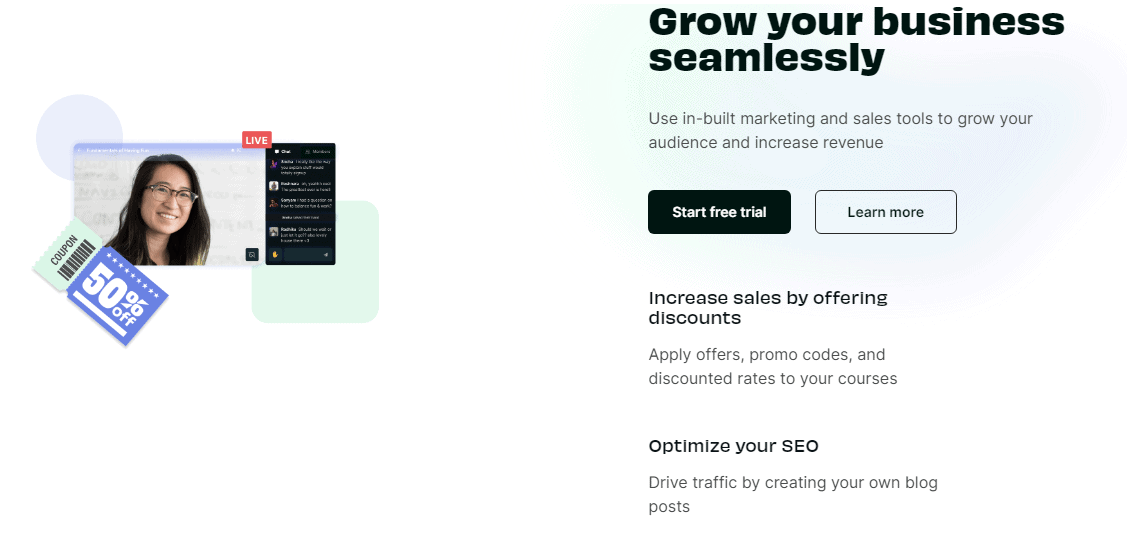 In Graphy, you get tons of Search Engine Optimization input options like SEO keywords, title,s and descriptions to be attached to your resources.
There is an option for integrated blogs through which you can draft and publish new and existing blogs under your own site, further initiating efforts to attract traffic and improve the site's rankings on Google.
In addition to that, if you want to offer discounts on special occasions or festivals to generate more business, you can issue Promo Codes and share them with your audience, creating urgency.
The best part is that there is no limit to the codes that can be generated for your packages or courses. You also have the option to throw more light on it by suggesting them on the checkout pages.
The features do not end there. Graphy also provides features like Refer & Earn – your students can earn Wallet and Credits by referring Graphy to their friends just like marketing-driven companies like Uber, Zomato and Swiggy do.
They can further use the credits to purchase and save on existing or future courses.
3. Inexhaustible users and resources:
Once you set your business up on Graphy, you have unlimited access to everything. Be it the number of users you can enroll, the courses you wish to launch, or the amount of storage you get, there are no limits.
Use all the core functionalities of the platform, as much as you want!
4. Integrated Payment Gateways:

Post publishing your courses and opening for enrollment, you need not worry about collecting payments on a third-party platform.
You can just use the integrated payment gateway to collect global and local payments, in the currency as per your choice.
Graphy also offers Country Specific Pricing, which lets you set the price according to the country it's being sold in, which in turn helps in faster conversions as people get to know the price of the courses in the currency they're more familiar with.
5. Affiliate Dashboard:
Your course sales can see higher strikes not just when you promote but also when students do it. Graphy enables students to join the educator's mission as a partner and promote the course within their networks because well, nobody knows it better than someone who has already been a part of it.
You also get the option to assign a specified commission rate and put in the respective metrics to have satisfied partners onboard.
It is a very simple concept that allows you to remunerate your student's efforts to bring in more students. You as the owner of the business have the complete liberty to put forth your Terms and Conditions as well.
6. Ratings & Reviews: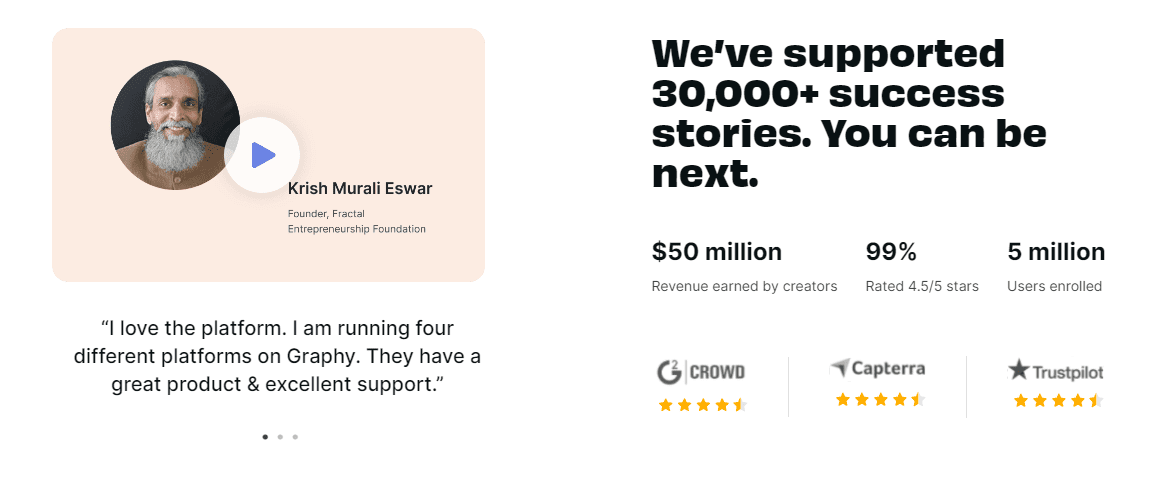 Graphy enables the educators to choose whether or not they want to make their ratings visible to the website visitors.
In cases wherein you don't want total transparency or if you wish to unpublish a review, you can just head on to the "Ratings & Reviews" section, click on the concerned course and hide it as well. 
7. Learner Management:
You can get access to the complete database of learners enrolled in your courses, which are also available for download in the dashboard. You can also input various filters to pin a particular segment of learners.
8. Admins:
For instances wherein there are multiple people in your core team, you can assign more than just one person to manage and run the portal.
There is a variety of options for assigning roles like Support, Design, Discussions, Messenger, Marketing, Reports, Users, Content, and Sales.
You, as the owner of your business, can define the section each manager could have access to the portal, whether complete or partial. For example, if you want a Support head/ representative to just view the learner's information – you can only opt for that access too.
Features of LearnDash
1. Quizzing Capabilities

:
Like Graphy, Learndash also offers a supreme quiz builder. This is one of the best features when it comes to the online portal offered by LearnDash. They have 8 different Question types you can take a pick from.
Just like Graphy you can create a question bank on the platform itself. You also have the ability to insert any sort of media into both questions and answers – be it audio, visual, or images.
You can either go for Flexible Question Display or Randomize the questions. You can also define the maximum number of attempts, block progression, create timed quizzes and even provide clues to keep things interesting.
2. Focus Mode:

LearnDash educators have the option to make the learning experience for their students distraction-free by using the Focus Mode feature. However, it does not work with the Legacy template.
3. One-time Purchase

: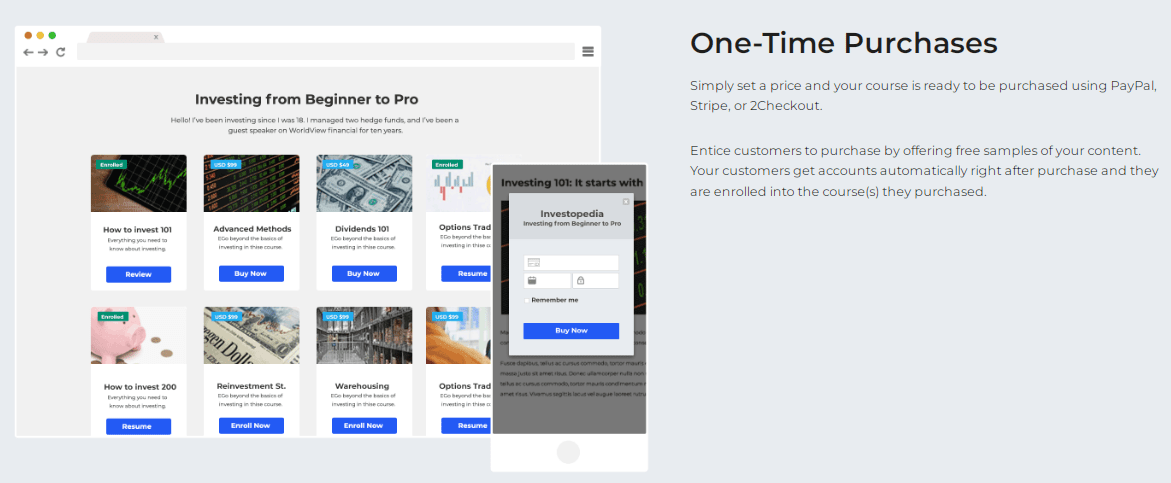 You can simply set a price for your course and once the purchase is made through PayPal, Stripe or 2Checkout, they are assigned auto-created accounts and given access to the course.
4. Seamless content delivery:
LearnDash offers drip-free lessons, open, linear progressions and assignments to ensure dynamic and easy delivery of your content. The drag and drop feature of the website also adds to this aspect.
While they focus on seamless delivery of content, LearnDash has the ability to send automated triggers for the learners to receive information via email too.
5. Certifications and badges: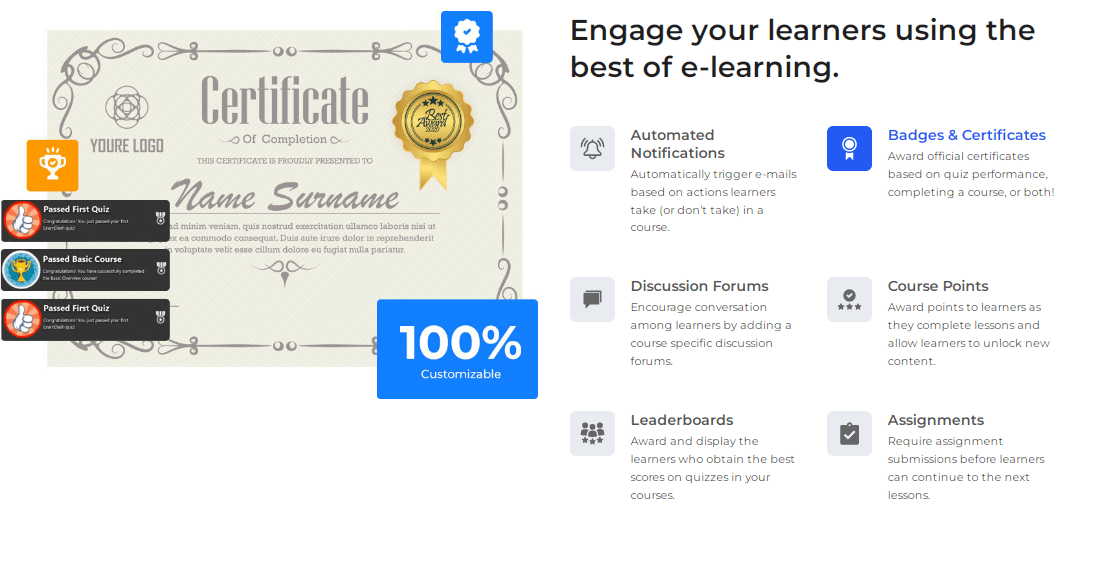 As a Learndash educator, you have the provision to issue certificates and badges to top performers in your courses and quizzes.
6. Course communities:
Here you get built-in discussion forums and panels like Graphy to get engaged in course-specific topics regarding your community which can contain questions on certain topics, course curriculum, fee structure, etc.
7. Top-notch courses:
Through LearnDash, educators can ensure the delivery of high-quality content and course materials to their students as the entire platform is very convenient to use and operate.
8. Trusted Customer Support:

Learndash enforces excellent support on both the educator and learner ends of the portal. In addition to the high-quality support, you also have preset channels to communicate with your learners from time to time.
Feature Comparison
Scrolling through the significant features of the two most popular online course platforms, Graphy & LearnDash you must now have got a gist of what both platforms have to offer.
While both are pros with their respective strength, which one would you pick to boost your business and skyrocket your sales?
Throughout the article, you must have observed how Graphy not only offers an extensive range of features but is also more productive as a web-based coaching platform.
Graphy serves you in a much wider perception. When it comes to a fully-functional learning management system, Graphy is deemed to carry a much better product offering than LearnDash as its features are limited to the basic needs of an educator.
Graphy offers unlimited learners, an in-built Zoom feature, live session recordings, course notifications, in-built email integration, in-app community interaction, stunning websites and mobile applications for both iOS and Android along with extensive customer support through chat, calls & dedicated relationship managers.
Whereas LearnDash falls short when it comes to these aspects. All this makes Graphy an undoubtedly winner in the terms of features.
Pricing Comparison
From the aforementioned points, it is quite clear that Graphy has more benefits in terms of its paid plans than those of LearnDash.
Firstly, LearnDash may have packages starting at lower price points but the ProPanel with intermediate and advanced-level features comes only with the higher plans.
However, with Graphy, you get them at the basic level itself. If analyzed with deeper insight, you can see that it's a whole different ball game altogether; LearnDash is way more expensive than Graphy.
Secondly, Graphy offers its users an option of a free trial also, whereas in LearnDash, you'd have to purchase a subscription plan and then see if it's the right fit for you.
Therefore, Graphy makes for the big winner when it comes to marking the best online educator-centric platform.
Pros of Graphy
| | |
| --- | --- |
| Pros | Cons |
| Accept payments globally with integrated gateways. | Graphy evidently has an abundance of features to turn all educators into pro players. |
| Offers customizable online course platforms with various integrations for streamlined workflows. | |
| Improve online reach with pre-installed marketing and sales resources. | |
| Offers 24/7 customer support via chat, phone, and dedicated account managers. | |
Pros of LearnDash
| | |
| --- | --- |
| Pros | Cons |
| Organize course materials easily with LearnDash's drag-and-drop editor. | There are limited built-in payment and membership options. |
| Create quizzes, track progress, view results with ProPanel. | |
| It comes equipped with an advanced-level quiz builder with timers and randomization. | |
| There are a lot of plugins available to go beyond the basic capabilities of LearnDash. | |
Quick Links
In Conclusion: Our Opinion
We have minutely compared both the LMS solutions, Graphy and LearnDash. Even if both platforms have their own set of assets and flaws, they are considered to be one of the best channels for digital educators out there.
On the face of it, the paid packages of LearnDash may seem lower. However, it will likely rise higher and higher once you begin opting for add-ons that are otherwise available in Graphy even in the lower subscription plans.
Adding to that, Graphy also includes better and more efficient features when it comes to building courses that sell themselves and marketing them globally. 
All of these factors stated above make Graphy the smarter choice to pick. And therefore, Graphy wins the trophy and comes off as an absolute winner.