You might be here if you're having trouble finding a good RDP (Remote Desktop Protocol) service that's both affordable and reliable…
You can finally take a sigh of relief as 1Gbits has the answer. They offer a Windows RDP account, allowing you to connect to gaming machines or supercomputers for your remote needs.
Now, let's explore all the great features and benefits you get with 1Gbits' RDP service.  Also, here you can know what more you can expect from 1Gbits, as I discuss in detail here.
1Gbits Review 2023: What Is 1Gbits?
1Gbits is a popular provider of dedicated servers and VPS hosting solutions. They serve customers worldwide and offer high-performance servers with strong security.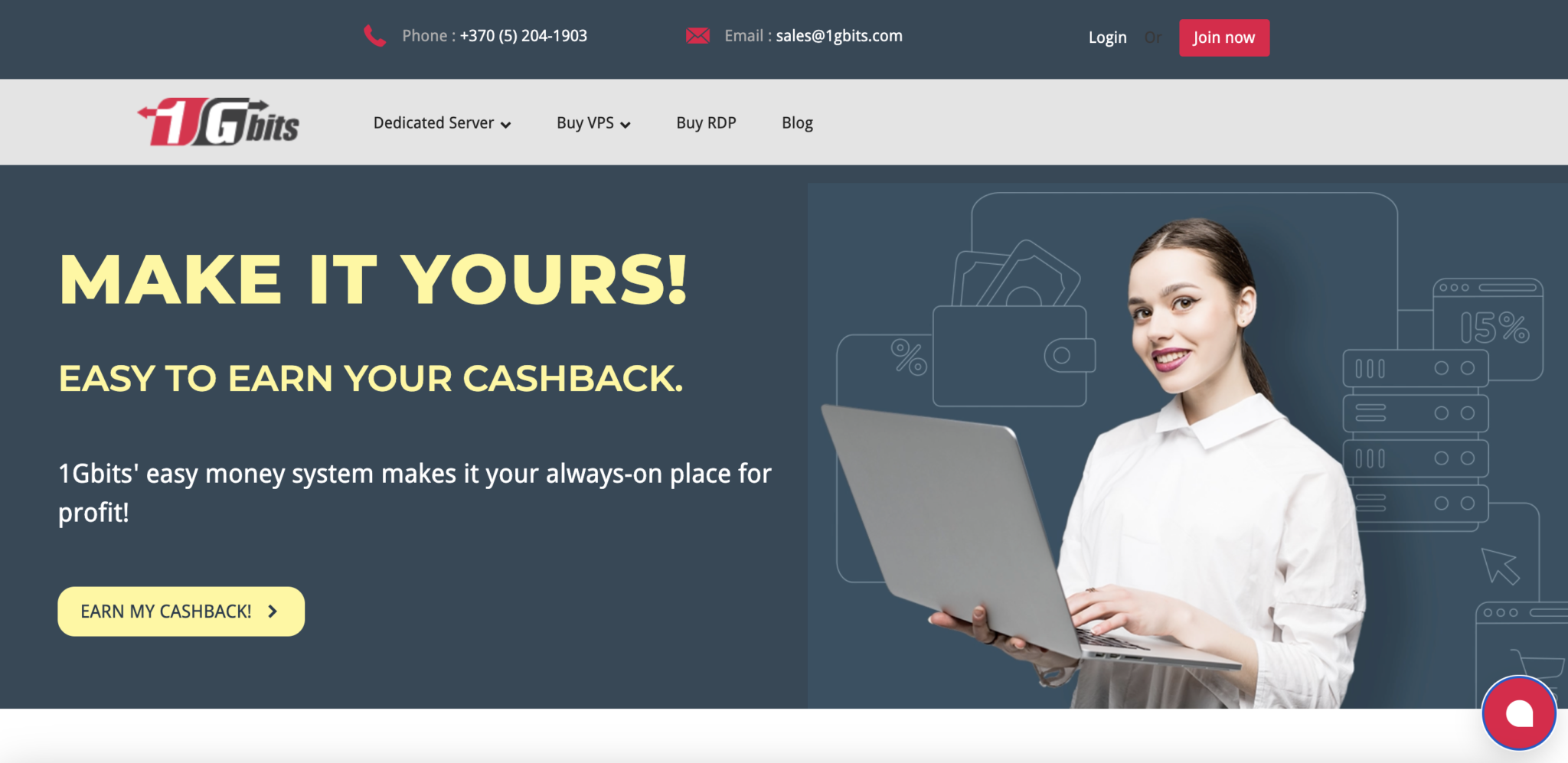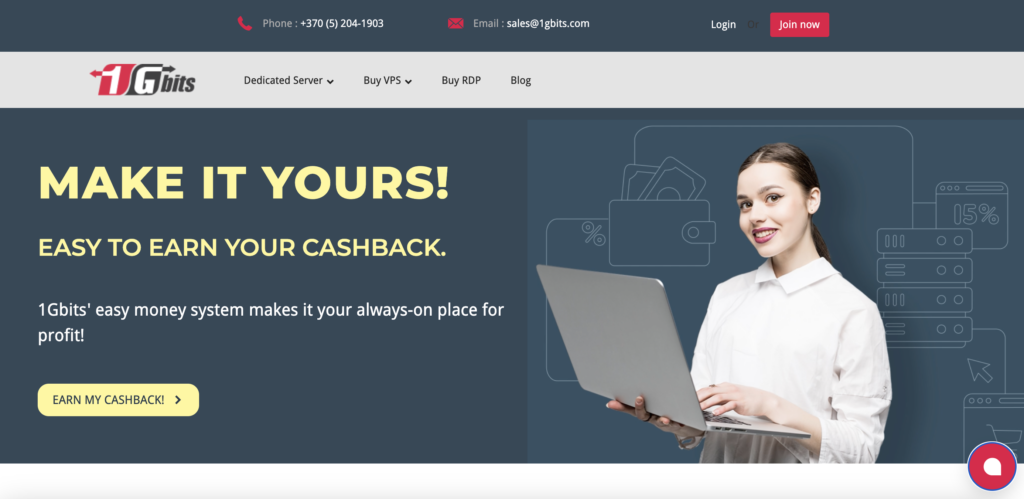 Their flexible options work well for businesses of all sizes, ensuring websites run smoothly. They are also known for their 24/7 customer support and competitive pricing.
Features of Windows RDP Service from 1Gbits?
The 1Gbits Windows RDP service is designed to empower users with location flexibility, reliability, performance enhancements, quick setup, resource scalability, full control, and accessible support.
They aim to make your experience smooth and efficient. Discover the advantages of our Windows RDP service tailored to benefit you: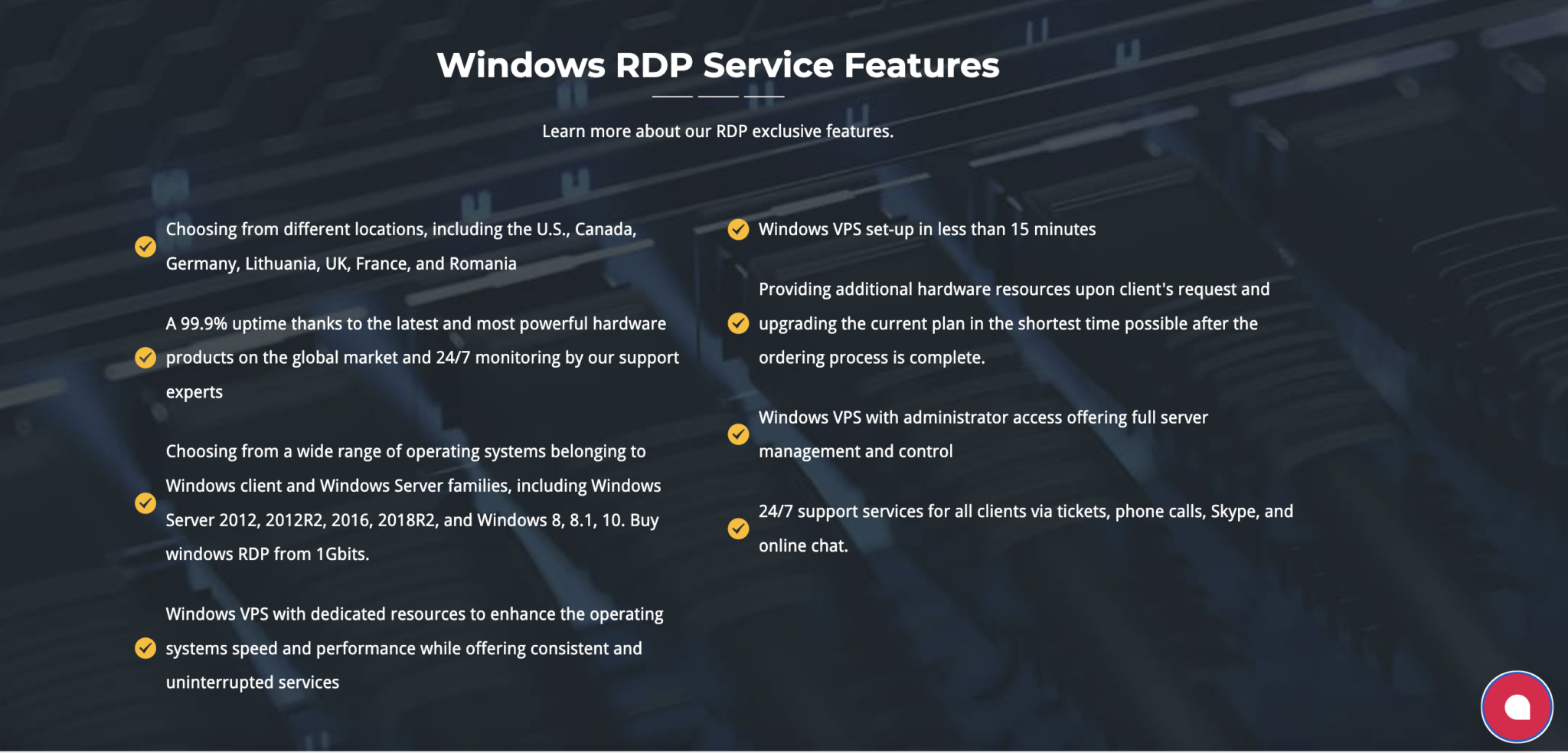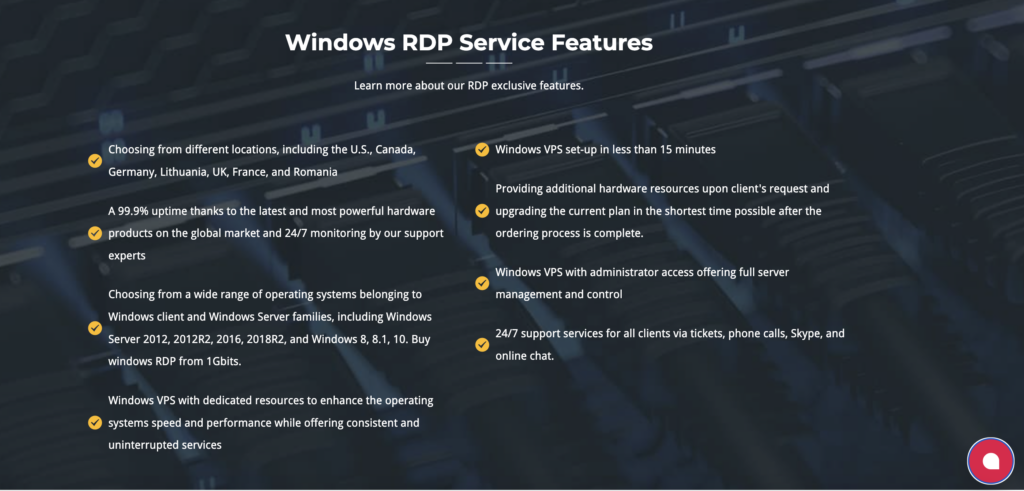 1. Location Freedom: Choose your ideal location from various options, such as the U.S., Canada, Germany, Lithuania, UK, France, and Romania, allowing you to operate with ease where it suits you best.
2. Reliable Uptime: 1Gbits service guarantees an impressive 99.9% uptime, thanks to advanced hardware and continuous monitoring by their support experts. You can rely on them for uninterrupted access to your resources.
3. Operating System Flexibility: Select from a broad range of Windows client and Windows Server operating systems, including Windows Server 2012, 2012R2, 2016, and 2018R2, as well as Windows 8, 8.1, and 10. This versatility ensures compatibility with your specific needs.
4. Enhanced Performance: Experience improved speed and performance with Windows VPS, as it comes with dedicated resources designed to provide consistent and reliable services.
5. Swift Setup: Get your Windows VPS ready to use in less than 15 minutes, saving you time and enabling you to focus on your tasks right away.
6. Resource Scalability: They accommodate your needs by offering additional hardware resources upon request and promptly upgrading your plan after you've completed the ordering process.
7. Full Control: With administrator access, you have complete control over your Windows VPS, giving you the freedom to manage it according to your preferences.
8. Accessible Support: Enjoy 24/7 support services available via tickets, phone calls, Skype, and online chat. They assist you promptly and efficiently whenever you need assistance.
Pricing for RDP Service Plans: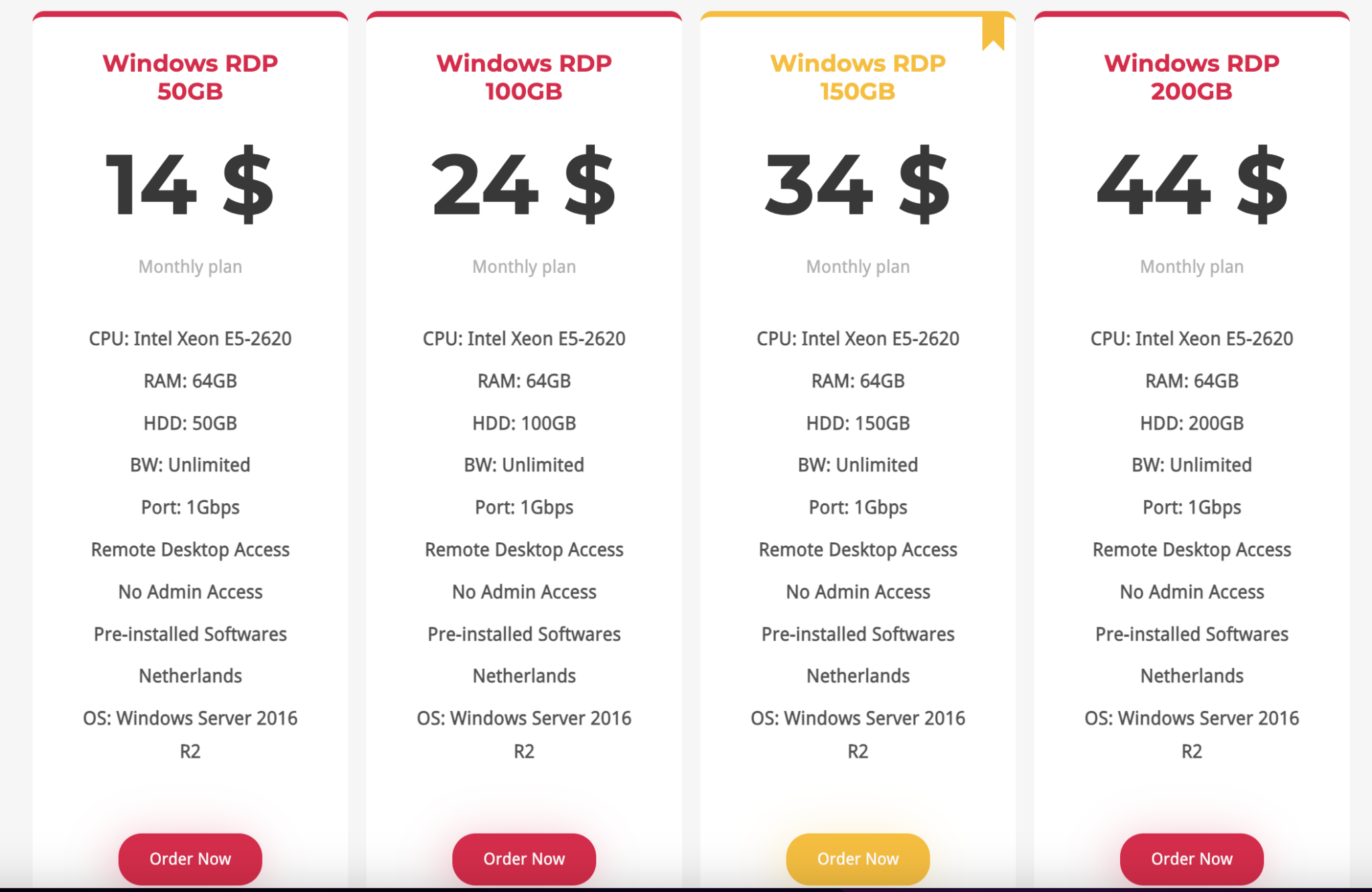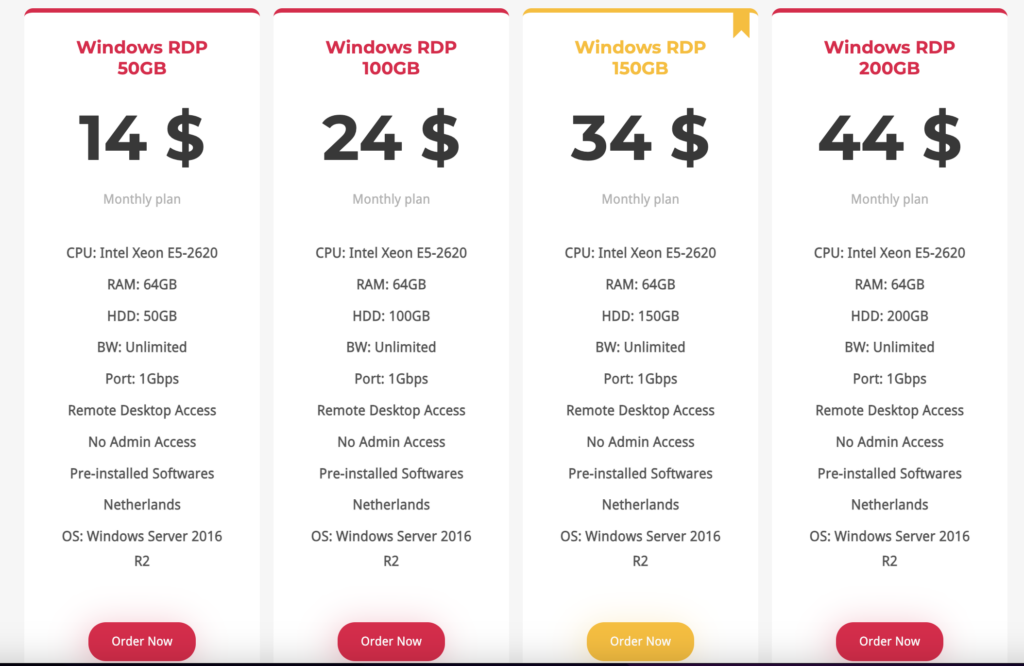 Windows RDP 50GB – $14 Monthly Plan:
The Windows RDP 50GB plan is priced at $14 per month. It offers substantial resources, including a powerful CPU and ample RAM, making it suitable for various tasks.
However, it does not provide admin access, meaning you won't have full control over the server configuration.
Windows RDP 100GB – $24 Monthly Plan:
The Windows RDP 100GB plan is priced at $24 per month. It offers the same CPU and RAM as the 50GB plan but comes with a larger 100GB hard drive. Like the previous plan, it does not grant admin access.
Windows RDP 150GB – $34 Monthly Plan:
The Windows RDP 150GB plan is priced at $34 per month. It offers increased storage capacity with a 150GB hard drive while maintaining the same CPU and RAM. Admin access is not included in this plan.
Windows RDP 200GB – $44 Monthly Plan:
The Windows RDP 200GB plan is priced at $44 per month. It offers the largest storage capacity among the plans, with a 200GB hard drive. Like the others, this plan does not provide admin access.
Quick Links:
Conclusion: 1Gbits Review 2023
In my experience with 1GBITS, I've found it to be a hosting service that truly stands out. I wholeheartedly give it a thumbs-up. The reliability and uptime of my server have been outstanding.
Their commitment to uninterrupted service is evident in the fact that they have not had a single moment of downtime in three months.
The ability to connect to my dedicated server from anywhere in the world has provided me with the flexibility to work and access important data on my terms.
I highly recommend it to anyone seeking a hosting solution that truly delivers. Thumbs-up all the way!