Need to start up your day with a bang? Want to wake up and feel full of energy? Want to face your daily challenges with all your might, with a smile on your face, and with enthusiasm? Here is the Tony Robbins Greens Drink which boosts your BioEnergy to help you experience all these things.
With these Green Drinks, you are sure to experience your peak, enjoy your day, and feel incredible all day long. 
In this review, I would talk about BioEnergy Green Drink by Tony Robbins and will tell you if you should buy it or not. But before starting, let us see who Tony Robbins is and what these Green Drinks are.
About Tony Robbins
Tony Robbins is a well-known entrepreneur, life coach, and business strategist who is known all around the world for his skills. Tony Robbins provides various products aimed at inspiring, motivating, and improving both your mental as well as your physical well-being.
He has products like books, audiobooks, DVDs, health, and dietary supplements. He also hosts various events and seminars in order to motivate and inspire others to do better in their lives.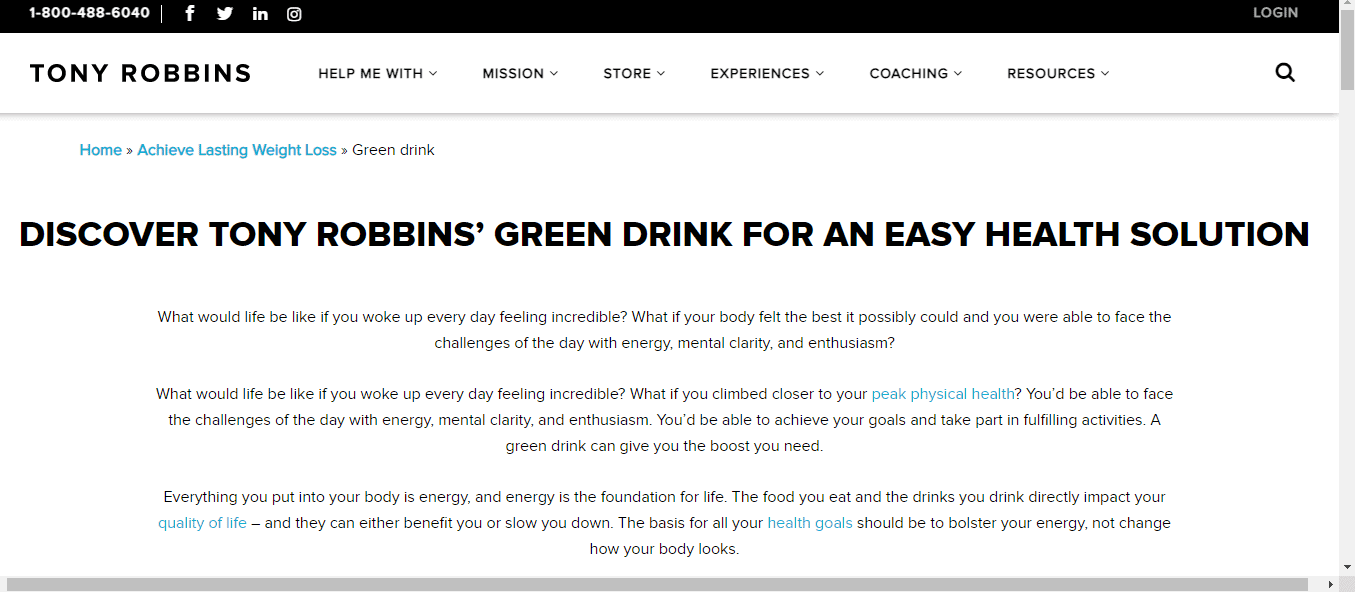 No matter which aspect of your life you are stuck on, Tony Robbins is sure to help you out.
Tony Robbins Greens Drink | Benefits Of BioEnergy Greens By Tony Robbins.
The formula of Tony Robbins BioEnergy Greens comprises 28 ingredients, which is remarkably lesser than the elements when compared to super green powders of other competitive brands.
Tony has stated that he does not want to bulk the powder with ingredients that cannot provide benefits and wants to put in only those ingredients, which are really very powerful.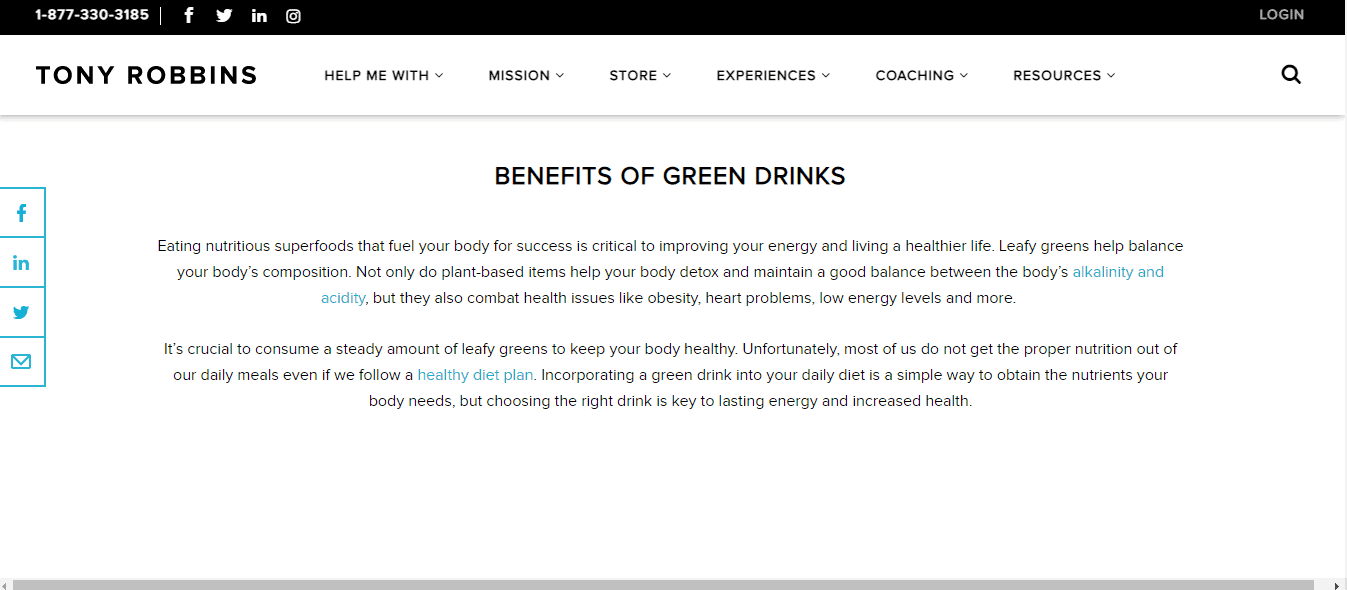 Depending upon the ingredient type, The BioEnergy Greens formula by Tony Robbins is divided into various proprietary blends. This means each blend in the mix has its own set of benefits.
All in all, the powder will support your immune system, boost the functioning of the brain by providing mental clarity, and also provides the cell with vitality giving your body the boost of energy from within.
Moreover, as mentioned earlier, the mix comprises vital minerals and vitamins, which are crucial in keeping the body in good health. 
Tony Robbins Greens Drink | Ingredients Of BioEnergy Greens By Tony Robbins.
The BioEnergy Greens mix by  Tony Robbins comprises a total of 28 ingredients. 26 of these 28 ingredients are divided into proprietary blends. The proprietary blend is not as good as having a precise measurement of every element.
This is because it is essential for customers to have confidence in the fact that the brand in question is adding the accurate amount of every ingredient in the blend in order to ensure that health benefits can be derived from it.
On the positive side, Robbins is an extremely dependable and reliable brand; thus, the blend will surely comprise the accurate amount of every ingredient. On the product page of BioEnergy Greens on the website of Tony Robbins, you can find a complete detailed list of ingredients.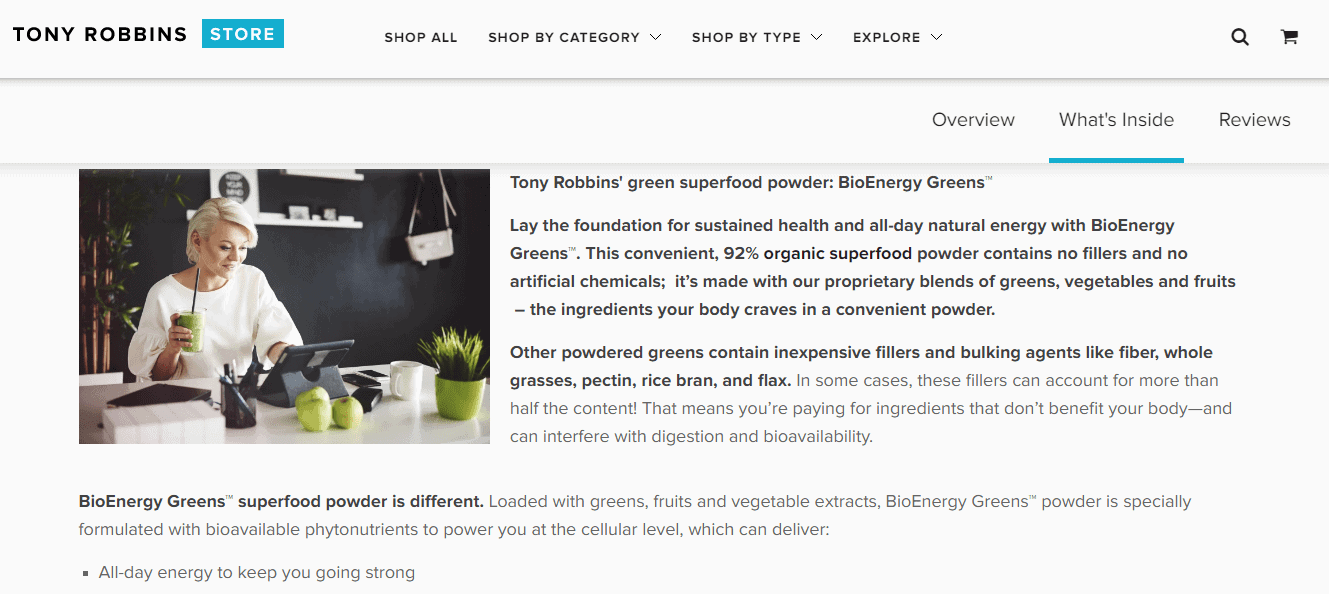 Now we will look at 5 various proprietary blends in the formula, the ingredients highlighted within, and their health benefits. 
Greens Proprietary Blend
A total of 5 superfood ingredients constitutes The Greens Proprietary Blend. The prime ingredients that are highlighted in the blend are Chlorella, Barley Grass, and Spirulina.
Along with other ingredients, these ingredients come full of antioxidants, which will help in cleansing your body from toxins, protecting cells from damage, boosting energy level, regulating the metabolism rate of your body, boosting immunity, and aiding the alkalization of the body.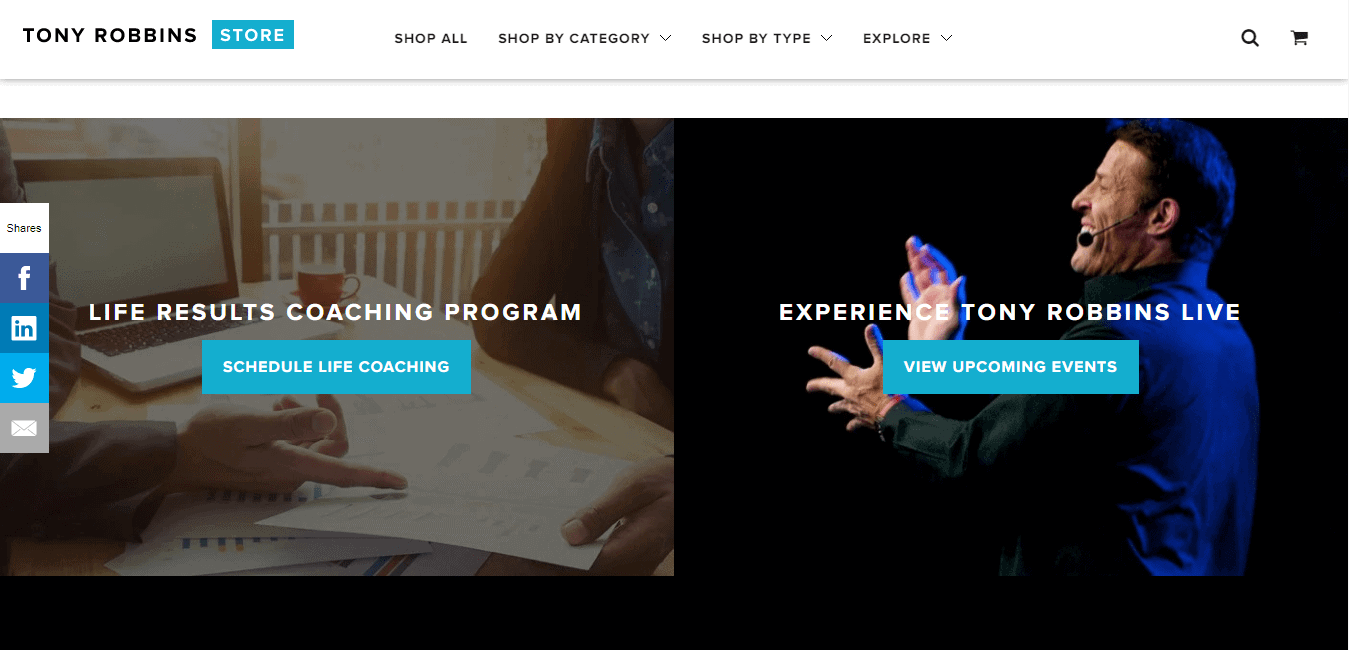 Vegetable Proprietary Blend
A total of 9 ingredients, which include three sprouts, constitutes Vegetable Proprietary Blend. The fundamental ingredients of this blend are carrot, spinach, beetroot, and kale.
All these ingredients in the mix are very helpful in boosting the immunity system, improving mental clarity, enhancing the functionality of the brain, aiding the management of weight and protecting cells from intense damage, and also pushing out the toxins out of the body. 
Fruit Proprietary Blend
The five most powerful fruits constitute the Fruit Proprietary blend. The primary ingredients which are fundamental in the blend are Camu Camu berry extract, blueberry, and raspberry.
Including other ingredients, these ingredients within this blend consist of antioxidants of a really high level, which help in the reduction of potential damage to cells, improve heart health, prevent some cancer types and also have anti-inflammatory properties. 
ORAC Proprietary Blend
Only two ingredients constitute the ORAC Proprietary blend, namely Oxyphyte grape skin extract and Oxyphyte grape seed extract.
Both seeds of grape and grape skin have a profoundly high level of antioxidants that will help in preventing illness and will work towards protecting both the mind and body from anxiety and stress and also help in the protection of tissues in the body and inflammation reduction.
It will also prove out to be incredible in lowering the blood pressure level and bringing about an improvement in the flow of blood.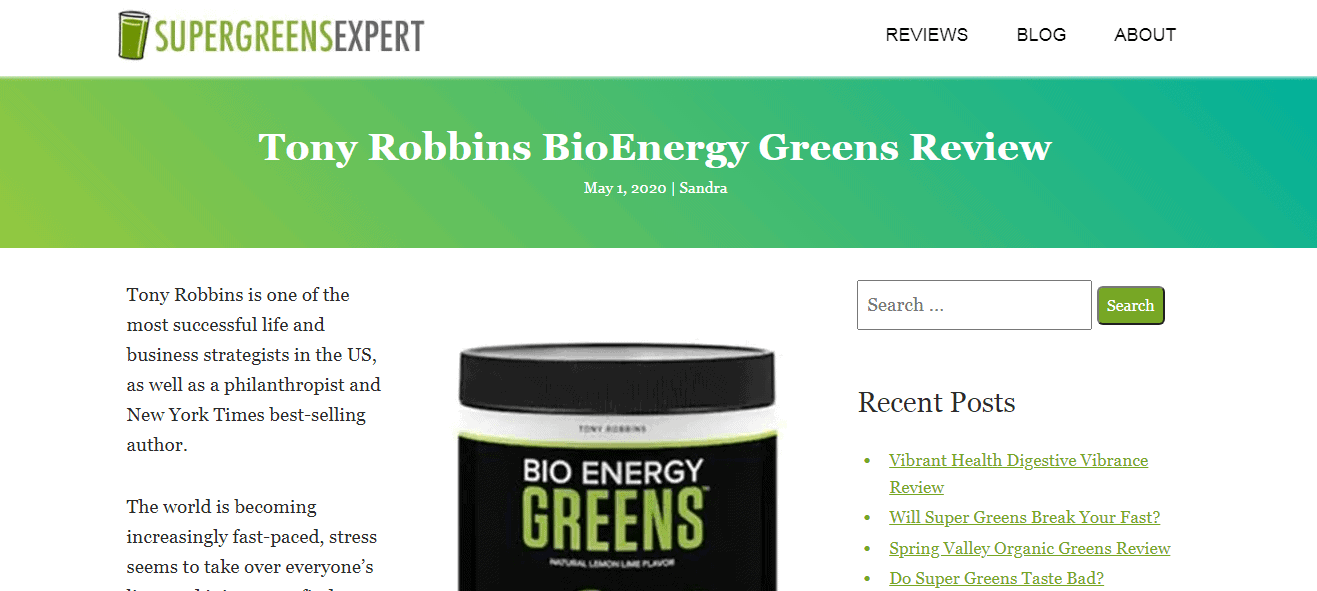 Prebiotic/Enzyme Proprietary Blend
Five powerful prebiotics and enzymes constituted the Prebiotic/Enzyme blend. All these ingredients help your body in the proper absorption of nutrients, aiding the process of digestion, increasing heart health, improving mental clarity, and boosting the functions of the brain. 
What Does The BioEnergy Greens By Tony Robbins Taste Like?
The BioEnergy Greens by Tony Robbins does not consist of any additives or artificial flavors. It is full of the goodness of stevia extract and natural and organic citrus flavor.
Overall you will find the formula full of citrus flavor, which is pretty refreshing. Unlike how most of the super green products taste (basically bitter and earthy), this product tastes very refreshing even though it is a super green drink.
What Makes The BioEnergy Greens By Tony Robbins Great?
The ingredients that are used are entirely organic and natural. This makes it possible for you to enjoy the benefits of this product without having to worry about any side effects. Organic products are always preferable to chemical-made products.
They do not have any side effects whatsoever and do not cause any harmful disease, which is pretty common if you use chemical-made products. Doctors always recommend using organic products as these do not contain any toxic chemicals.
These chemicals can also be found in fruits and vegetables, which are grown with the traditional method of farming. The fertilizers and pesticides used in conventional farming are full of harmful chemicals.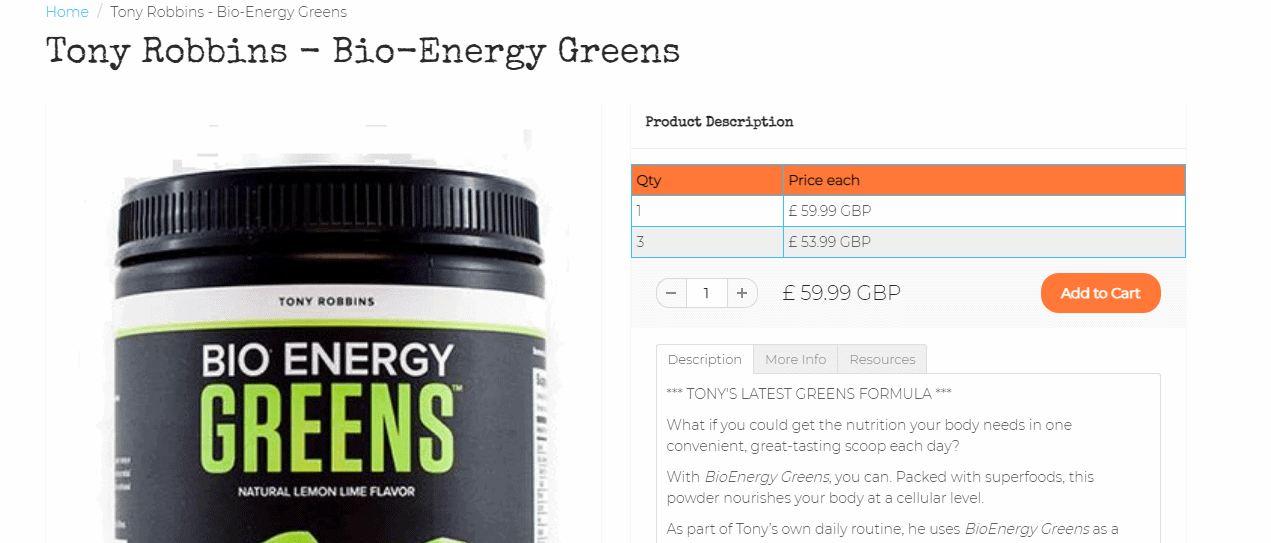 The product uses MSM, which is indeed a very powerful nutrient and thus offers some incredible benefits. MSM stands for Methylsulfonylmethane, which is a very common and well-known nutrient that is widely accepted as being beneficial for the human body.
MSM helps up in making the bones stronger. It can also be used to get relief from swelling coming from any injury or any disease related to bones. MSM can also be used sometimes to treat gastronomical problems as well as, can be used to treat scars and acne.
The serving size that is suggested seems to be pretty manageable. It is not too huge to be mixed into your milk, nor too small that it won't affect you and nourish you properly.
You can mix it with other things if you wish to make it taste even better. This powder has no limitation of being mixed with any other ingredient. Whether it is milk, water, or any fruit juice, you can simply pour the desired powder in it and make your own blend as per your liking.
I remember a few months back, I took a different powder, and it was strictly limited to be used with milk, not with any substitute. However, when I tried this powder, I liked how I could use it with various different ingredients and even created a blend of my own.
The delivery of orders is very quick and trusted. The delivery time mentioned for my location was somewhere between 2-4 weeks. However, I got the product in the first week itself, and the delivery cost was reasonable too. The package arrived very well packed with no damage.
The reviews on the site about the delivery are also good. And judging by the delivery experience I had, those were totally true and real.
The formula is in a very fine powder form, just like dust making it easy to mix in a shaker. You don't have to worry about any lumps or whatsoever settling down in your blend. I used a protein powder about a year back, and all it did was not mix well and settled down at the bottom of the bottle in a lump form.
However, I haven't experienced that thing with Tony's product, and it doesn't take an eternity to mix. It mixes up very easily and efficiently thanks to its fine powder form.
What Makes The BioEnergy Greens By Tony Robbins Not That Great?
When compared to the amount of nutrition you get, it is very expensive. It costs around $79 for a pack. However, others are selling similar products at a cheaper price. Though they might not be as good as this, still for the nutrition you are getting, you are paying up way more. 
The amount of superfoods in every serving is comparatively very small. The serving size is apt and very suitable. However, it is still not enough for the amount of superfood it is providing. You are, in fact, getting a very small amount of superfoods per serving.
You do not get an idea of every ingredient which you get in the formula. They do disclose almost all the ingredients present in the formula. However, some of them are still missing. You still can't get the complete idea about what is in the serving you are taking. This may feel a bit disappointing for some like I did.
Some reviews suggest that it had a slightly bitter taste. For some, the taste may feel a bit bitter and not acceptable. I do like bitter things, but for some, the bitterness is still very unacceptable. One of my colleagues who tried this product gave the same review.
She felt that the product was a bit on the bitter side, and she didn't like it. You can make up for it by thoroughly mixing it up with any fruit juice or stuff like that. However, it is a downside for some people.
Tony Robbins Customer Review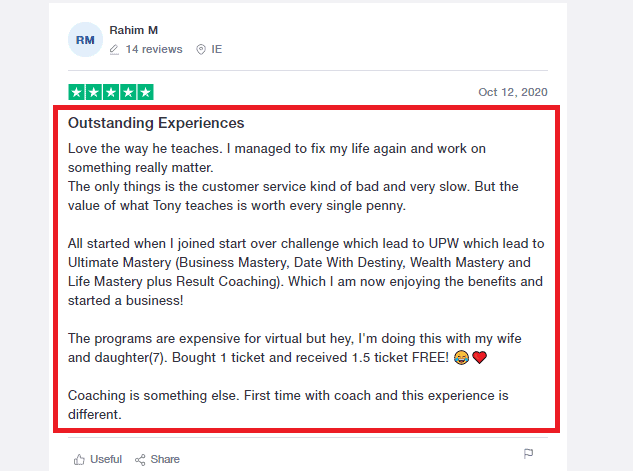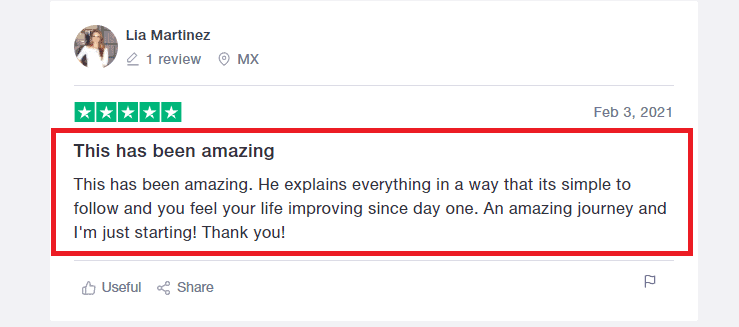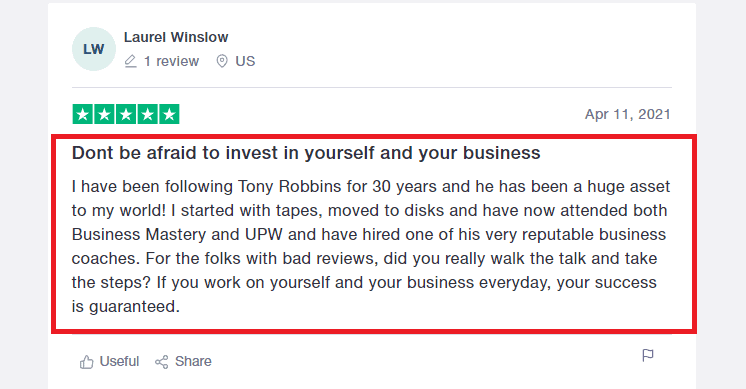 Quick Links
 FAQs | Tony Robbins Greens Drink
👉 Is the Tony Robbins greens drink Gluten and Lactose-free?
The product is completely free from Gluten as well. It has no Lactose. Hence, people on a dairy-free and gluten-free diet can easily consume this product and won't face any problems or allergies. This is one of the salient features of this product.
👉 Is the Tony Robbin's greens drink safe for my health, and is it prepared in a certified factory or not?
The product is entirely safe and satisfies all the medical standards made for manufacturing these products. Apart from that, the product is made in a cGMP as well as an NSF-certified factory. So it does not have any adverse effects on you.
👉 Does the Tony Robbins greens drink contain any artificial sweetener or any added flavor?
The product is totally free of any added artificial sweetener or any added flavor. The product is fully void of any of these chemicals, which are not suitable for consumption.
Final Words | Tony Robbins Greens Drink Review 2023 | Boost Your Bio-Energy
Consuming Green Drinks is a very common practice now. However, a Green Drink from a shady brand can affect your health in a negative way. Going only for trusted ones is the best option. 
Tony Robbins is a very trusted and reputed brand. And having personally tried, I would say that it is a great option to consider when buying Green Drinks. However, for some, the price may sound too steep.
Product-wise, I would definitely recommend Tony Robbins BioEnergy Green Drinks powder.
Tony Robbins On Facebook
Tony Robbins On Twitter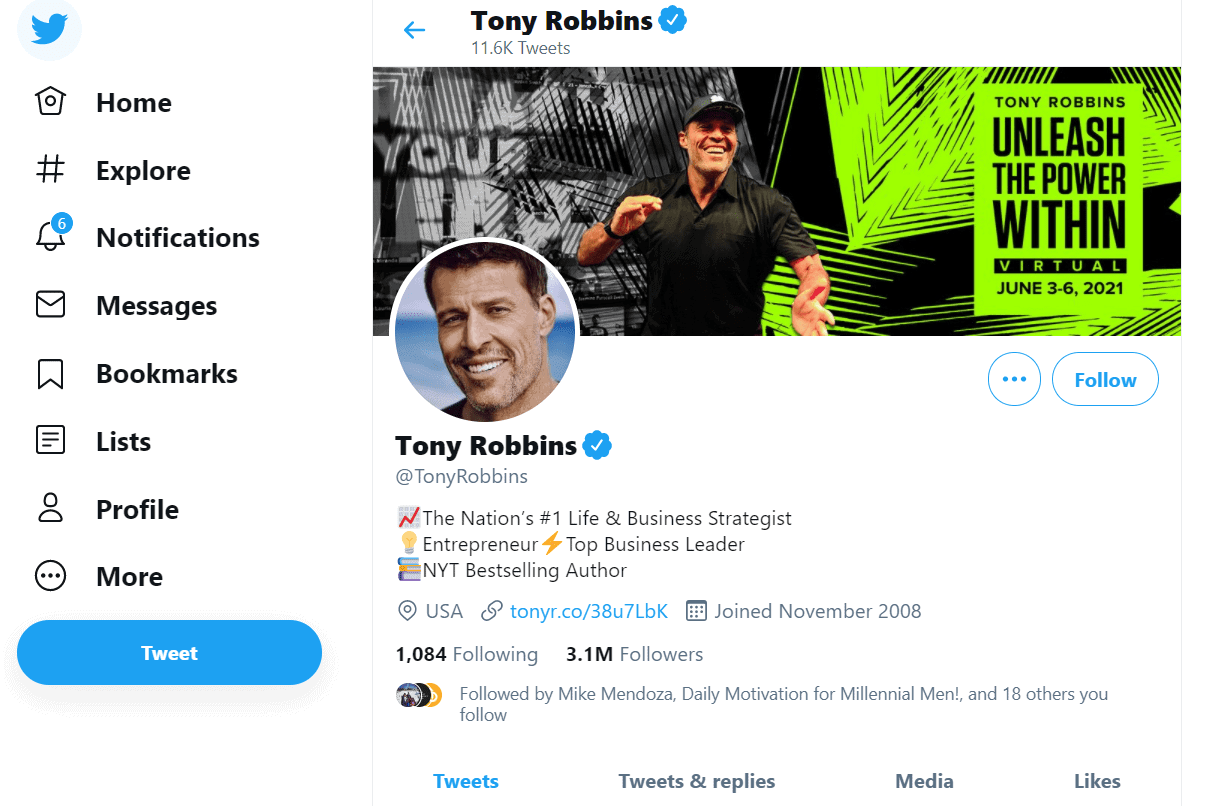 — Tony Robbins (@TonyRobbins) April 19, 2021
What an honor to be back on the cover of @SUCCESSMagazine! Pick up a copy at https://t.co/0G8leqqZWx, and read the story here: https://t.co/eu4pZOGj4L

— Tony Robbins (@TonyRobbins) April 6, 2021
Best Tony Robbins Videos